This article is in collaboration with Apologia Educational Ministries.
Children often learn best when they have a good example to follow. Writers in Residence, from Apologia Educational Ministries, is a writing program that aims to develop strong writing skills while giving kids solid examples from high-quality literature. The language arts program includes grammar and writing lessons for grades 4-8, with a convenient four-day schedule. A large, spiral-bound Student Text & Workbook contains all of the lessons and is written in a conversational tone. The answer key offers directions, grading rubrics, and answers to all questions in the workbook.
For budding authors, interviews with a variety of Christian authors are interspersed throughout the text, giving them a chance to find out how those writers got their start. The program uses a modified version of the Six Traits writing model and begins training students to evaluate their own writing based on these traits:
ideas
organization
sentence structure
word-choice
voice
conventions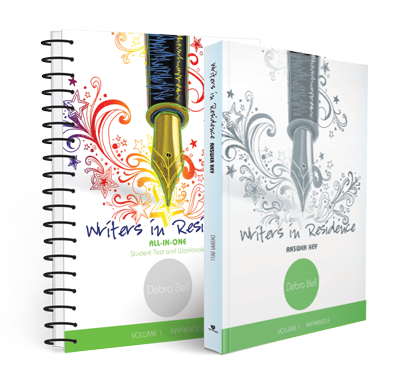 This first volume of Writers in Residence offers six units that have students writing autobiographies, opinion pieces, short stories, narratives, and more. Graphic organizers, expert models, important vocabulary words, and student samples are frequently used throughout the text to help with the writing process. Mastery Tests at the end of each module provide an opportunity to review and track progress. Apologia has plans to release the second volume of Writers in Residence in the future.
Apologia on Social Media:
Apologia on Facebook
Apologia on Twitter
Apologia on Pinterest
—oOo—
A big thank you to Brandy from Kingdom Academy Homeschool for writing this article.