I was astounded the day my dear friend said,
"You do so much and keep everything running so perfectly! I can't figure out how you do it all

and do it all so well."
I stared at her blankly. On that particular day she was
privy to the melt-down of a two-year-old, a messy school-room I hadn't gotten
around to cleaning up, dishes that needed to be washed on the counter, and
laundry that needed to be put away. Yet she looked at my life and saw things
getting done, goals being accomplished, and life running smoothly.
Isn't it funny how we feel so inadequate when in reality others
are probably looking at us and feeling the same inadequacy?
Each family is unique and we all have different roles to play.
Some are primary care-givers to a child with special needs. Some care for aging
parents. Some are balancing physical ailments of their own. Some are raising
teenagers, others toddlers, and still others both at the same time! Some work
full-time while homeschooling. Some have ministries outside their home they are
leading. Some of our roles are taken by choice and calling. Sometimes they are
thrown at us like a cannon ball into feathers, throwing our entire world into
chaos in a moment.
The question remains before us constantly…How do we manage?
1. Seek Christ in everything.
It is easy for me to say, "Yes!"
wholeheartedly to every good idea I hear. I have made commitments without first
praying or asking my husband's advice, soon regretting it. Right now I am filling
many roles…
mother, homeschooler,
homemaker, pastor's wife, Sunday school teacher, piano teacher, junior high literature
teacher, MOPs director, pianist and worship leader
… each of these are roles
I have felt God leading me to take on. There are many other good things I'd
like to do, but know the timing is wrong.
I honestly struggle to spend time daily with God. I know it is the right thing to do and when
I realize I've missed my time with God as I get ready for bed I think about the
missed opportunity. I have lots of people tell me not to feel badly because I'm
in a busy season of my life. While they mean well, my heart knows this is not a
valid excuse. I also know when I purpose to spend time with God daily and seek
Him before my decisions, things go better because my heart is more in tune with
His will.
2. Plan with flexibility. I feel more prepared if I plan. I've
learned to plan with flexibility by planning spare-time into my schedule,
purposing to not flip-out when (not
if, but when) things go off schedule, and choosing to enjoy the journey rather
than stress about missed moments.  This
takes intentional practice, but I finally feel as if I'm headed in the
right direction with this one.
3. Ask for help and be specific. My girls are seven, five, and
three. They each have a list of chores to complete each morning. My husband
frequently starts dinner, does laundry, and washes dishes. My life became much
easier the day I realized my role in our home was not to do everything, but to
manage the doings. I've become a master delegator!
4. Stop comparing your families with other families! 
As I write this the floor is littered
with a parade of ponies, crashed toy cars, half-finished coloring pages, and
some used tissues. The couch has several loads of laundry folded, but waiting
to be carried up the stairs and the kitchen still has breakfast dishes needing
to be finished. I know I'm not the only one who goes to bed with unfinished
housework on my mind. I find myself reading Pinterest and mommy-blogs and
thinking,
I sure wish I could keep it all
together like her. Look how nice her living room looks!
It is hard not to
compare and feel inadequate. Sometimes I have to step away from these outlets
and accept that real life is simply not as perfectly framed up as we see
pictured on the internet.
5. Measure everything with grace. It takes a lot of grace to
interact with the human race. Extending grace to my family has proven to be a
hard lesson; extending grace to myself, harder still. When grace abounds in our
home there is a peace which surpasses the chaos of our life. May grace be my
legacy as I accept imperfections and love unconditionally.
Melissa's is a Christ-following, homeschooling, family of five in full time ministry. Hubby is a pastor in the Christian Missionary Alliance. She is a full-time homeschooling mommy with a couple of part-time jobs teaching piano lessons and homeschool literature. They are Redskins fans, family game night junkies, and movie buffs…although the Hubby likes action adventure and Melissa likes old musicals. Their girls crave learning new things which makes her job teaching them all that much easier!  Read more about them on Melissa's blog — Grace-Filled Homeschooling.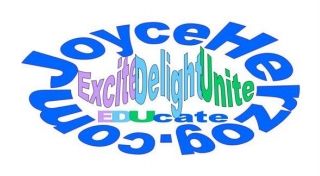 Dr. Joyce Herzog is an author of many educational products and a gifted teacher. She taught for over 25 years in classrooms of learning disabled students and has been working with homeschooling families for over 20 years. She is a sought after speaker, author, and consultant conducting workshops all across the United States and Canada.
Besides counseling, Dr. Joyce Herzog has developed a variety of learning products. These products are designed to provide a unique and appropriate education focusing on the talents and skills of each individual.  Her products fit well with most homeschooling approaches including: Charlotte Mason, relaxed homeschooling, the "real book" method and more. Those families with special needs will find that her philosophy and materials serve them well.
The Schoolhouse Review Crew Reviewed twelve different products from Joyce Herzog.
Scaredy Cat Reading System Levels 1 ($75), 2 ($75), & 3  ($100) and Scaredy Cat Reading System Express ($30).  This is a mastery based phonics reading system. This system teaches students to think and works where others fail. This system works with normal, gifted, learning disabled and dyslexic learners of all ages. Spelling is also taught as a part of this program. The Reading Express system consists of teacher training with activities and suggestions as well as board games, all the stories, all the word lists and sentence lists for Levels 1, 2, & 3.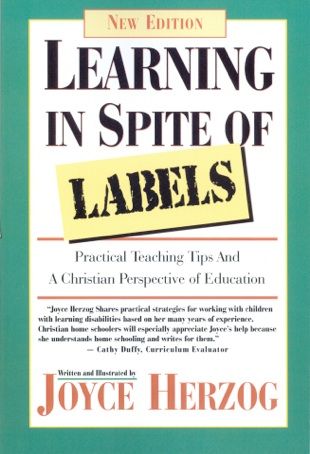 Learning in Spite of Labels ($15) This is a book about practical teaching tips and a Christian perspective of education.In 22 chapters this book looks at various teaching strategies for all sorts of learners. The book is full of tips and strategies for working with all types of learning disabled learners.
Timeless Teaching Tips ($15)  This book is the culmination of Joyce Herzog's decades of learning through teaching. It shows how to interject fun and personality into your teaching.
Choosing and Using Curriculum Set ($15)  (one physical book, one e-book)  This book and resource e-book is a home educators guide to choosing curriculum. Curriculum types are discussed as well as homeschool styles, avoiding over-spending, grade levels, your child's progress and much more.
Luke's Life List ($30) and Luke's School List ($30)  Based upon Luke 2:22 Luke's Life List is a list of Christian Knowledge and skills in Early Childhood, Wisdom, Structure, Favor with God, Favor with man and Adult life skills. We should never get so "busy" covering curriculum that we forget important lessons needed for living a Christian life. Luke's School List is a K-8 checklist of school skills. Use this book to decide what needs to be learned and what is not important.
Stepping Stones to Praise and Worship ($15) and Stepping Stones to Bigger Faith for Little People Book and Audio ($12)  These two books are devotions based on Scripture. The Praise and Worship book has 52 devotions written at a 4th grade reading level. This devotion book is designed to minister to all ages in a family. The Little People Book and Audio is 37 devotions based on Scripture. These are written at a 2nd grade reading level, but designed to appeal to all ages.
Budding Authors ($10-$15) (five book set) and  6 Weeks to Understanding Grammar ($12)  Help your budding author discover his /her talent. This series develops writing skill step by step from simple sentences to research. The Grammar book teaches parts of speech, kinds of words and sentences, verbs and a variety of other grammatical terms.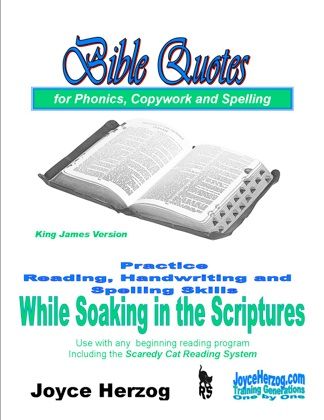 Bible Quotes ($12) These are Bible verses that go along with each rule in the Scaredy Cat Reading System. This book gives practice with reading, spelling, handwriting and works with any phonics program.
Educational Dice Bag ($23) This is three different bags of dice and one Math Operations die. One bag is an Alphabet Dice Delight which includes an alphabet die, a vowel die and instructions. One bag is a Rolling Dice Games which includes one number word die, one numeral die and two colored dot dice. The third bag is Deca Dice Fun. This includes one deca numeral die, one deca number word die, one deca dotted die, and one double deca die.
A big thank you to Jill Clark of ClarkClan Craziness for writing this introductory post.
Can you homeschool and homestead all at the same time?  Are there enough hours in the day to fit everything in?  Not only is it possible, but both will benefit.  We have been living this homeschooling/homesteading lifestyle ever since we raised our first chicks when our oldest daughter was 2 1/2 years old.
There is nothing like seeing lifecycles in plants and animals all around you throughout the year.  It does not compare to reading about it in a textbook or watching a video clip.  These things that are experienced will stick with your children much better than any other learning method – no matter the type of learner.
Over the years of our homesteading, we have added animals and projects.  When we didn't know how to do something, we learned.  Our children learned right alongside us – and learned how to learn.  We have also learned by doing.  When it didn't work as we expected, we learned why.  Sounds like science experiments doesn't it?
Planning the garden – when to plant, how much to plant, how many seeds or seedlings to order?  All of these questions lead to excellent living math lessons.  Most children balk at doing math because it doesn't seem relevant.  What is more relevant than using math to plan for garden harvests?
Walking the fence line, you hear a bird's song.  Everyone pauses and listens.  Someone locates the bird and recognizes it.  Now we can match the call to the bird.  Another child picks some wildflowers, while their sibling names them.  This is nature study at its best.  A natural, easy part of your routine.  Sure, we still do planned nature walks bringing along the field guides and sketchbooks and camera.  These "caught in the moment" times are often those remembered best.
That is exactly the point.  The lines are often blurred between what is homeschooling and what is homesteading.  When both are taken together as part of your lifestyle it makes things easier – and more full.  It's not hard when the Lord leads your day rather than you trying to fit everything into a neat and tidy time slot.
Nothing throws that carefully planned schedule out the window faster than animals loose and wreaking havoc.  Chasing and herding them back into their space adds in P.E. and/or recess.  Now when you get back inside to read some history aloud, everyone's minds will be sharper thanks to the exercise.
The flexibility of homeschooling accommodates the seasons of homesteading well.  Remember reading in Little House on the Prairie about the "big boys" not even being school during the fall term due to their help needed on their farmsteads?  Adopt the same philosophy.  Around here that time of year is often busy with harvesting and canning or butchering.  We don't crack many books unless it is a family read aloud.  Many times, we use audiobooks so our hands can keep working while our minds and ears listen.
This is the time of year when many of us in the northern hemisphere are starting our gardens.  Even if your garden is a few plants in pots on the balcony it will be a great learning experience for all of you.  Don't try to segregate your time into school time and chore time.  Let the two naturally flow together.  Your family will be happier.
Since we began our homesteading adventures, I have found more understanding when we read Scriptures.  With our new experiences, passages of Scripture come aliveI find I am praying more often – for homesteading needs (last summer we frequently prayed for rain) as well the typical prayers of a wife and mother.  I think our children are seeing our reliance on Him more due to our lifestyle as well.
Blending our homeschooling and homesteading has brought us closer to the Lord and closer to the land.  We have also grown closer to each other and closer to the library.  Who can complain about that?
Hillary blogs at Our Homeschool Studio.  She shares thoughts on homeschooling, homesteading, recipes and more.  She is a wife and mother of six children.
Science, Naturally! wants to "bridge the gap between the blackboard and the blacktop."  As an independent press, they do this by publishing fun and interesting science and math resources that kids enjoy.  They strive to make these topics "intriguing and accessible" to students of all ages.
The Crew had the opportunity to review their book  One Minute Mysteries: 65 More Short Mysteries You Solve With Science!  ($9.95)  It was written by the father-daughter team of Eric and Natalie Yoder, who have been featured guests on NPR.  Their books have won multiple awards and accolades from the education and publishing communities.
Designed for kids 8-12, these fun brain teasers get kids thinking about science to solve these quick mystery stories.  This is the second book in this series.  They've also written a book of one-minute math mysteries, too.  You can read a mystery sample here.
A big thank you to Sara of Embracing Destiny for writing this introductory post.
For parents and students who have questions about how to prepare for college, High School Prep Genius provides information, explanations, and guidance packed into eighteen chapters in a high quality glossy trade paperback.
Published by College Prep Genius, this 440-page book introduces how to use the book with instructions for creating a college and career notebook following student timelines from 9th to 12th grades. Then it outlines Foundations For Personal Success that include guidance for personal development, being physically healthy, building a support system, and encouraging financial independence.
The section titled Foundation For Academic Success has chapters on academic development, effective studying, taking tests, being organized, and going beyond the basics.
Chapters under Foundation For Future Success cover future development, choosing a school, preparing for standardized tests, completing college applications, paying for school, and college essentials.
Supplemental information includes building a homeschool transcript, tips about talent searches, recommended high school reading, how to relax and reduce test anxiety, and definitions of common terms used in college admissions.
A valuable resource for homeschoolers who want the inside scoop on how to navigate from high school to college and beyond, High School Prep Genius is available for $29.95.


A big thank you to Susan Raber of At Home&School for writing this introductory post.
Not even knowing who they were, I loved them fiercely.  In November 2009, I laid eyes on their sweet faces.  For four months, I memorized every detail of their photographs and poured over every word of our periodic updates.  Then, finally, February 15, 2010, in Addis Ababa, Ethiopia, I was able to meet two of my beautiful children for the first time.  My longing arms were filled!
These precious little ones had lost more in their 3 and 5 years than anyone ever should, so the number one priority upon bringing them home was bonding and building healthy attachments.  I loved them with every ounce of my being, but I didn't "know" them.  I couldn't tell you their likes, dislikes, fears, favorites, etc.  So from February through the summer months, we spent time getting acquainted, building trust, and making memories.  It was imperative that Jeremiah and Rachel know that we loved them unconditionally and that we were a forever family.
During this assimilation to all things new:  sights, sounds, tastes, smells, underwear, seatbelts, electronics, etc., language acquisition was also a focus.  The children came home speaking no English, but within 2 weeks, Jeremiah was speaking 45 words and understood even more.  Rachel had a more difficult time catching on largely due to age and the fact that she never acquired either of her first two languages.   To increase vocabulary and understanding, I narrated every minute detail of the day.  "We're eating chicken nuggets for lunch today.  There are 1, 2, 3, 4, 5 chicken nuggets on your round, blue plate.  Chickens say, "Bock, Bock, Bock!"  Chickens are birds."  Yes, it was more torturous than Barney, Teletubbies, Wiggles, and Dora's absentmindedness regarding the whereabouts of her map.  Nevertheless, it worked.  The kiddos had fabulous conversational English. I was so blown away by the progress made that I was convinced that this homeschooling gig would be easy.
I purchased a well-known, literature-rich, boxed curriculum from one of the homeschool classified sites, and I was so excited to begin in the fall.  I envisioned zipping through phonics and math lessons in the mornings and our afternoons cuddled on the couch reading classics.  Apparently, I was delusional, because our days appeared nothing of the sort.  We (yes, that includes me) were often crying after phonics, too weary to do math, and in way over our heads with the reading.  My son Caleb was loving all of the fantasy-based books, but Jeremiah and Rachel were baffled by fairytales.  My literal realists were not believers in the ridiculous and outlandish.  Puns, metaphors, colloquialisms, hyperbole all were completely lost on them.
Obviously, my preconceived homeschooling notions came to a screeching halt, and a new plan had to be made.  I'd like to say 3 years in that we have it all figured out, but we are still dealing with learning glitches and have more days with tears than I'd like.  However, I think I've gained a bit of understanding and a few tips and tricks along the way that may be helpful for those homeschooling English Language Learners.
1.  Directions/Instructions Must Be Taught
An ELL student completely masters conversational English in 2 years, but it can take up to 5 years to fully comprehend academic/cognitive language.  This makes perfect sense (after the fact).  How often do we use words such as:  explain, describe, compare, contrast, list, trace, etc. in our daily conversations?  Rarely!  I found that many times it wasn't the content that was creating the problems and frustrations for my kiddos.  It was what I was asking them to do with it.  I believe, a lot of time spent early on ensuring children understand the definitions of academic language will eliminate unnecessary struggles throughout homeschooling.
2.  Read Non-fiction
I suggest casting the fairytales and fables aside for a time.  Grab books about animals, weather, people, places, and seasons.  Read and make real-life connections.  Photographs opposed to illustrations are also helpful in the early stages.  A good children's picture dictionary or the various first thousand words books are great tools as well.  Look at and discuss a few pages each day.
3.  I Do, We Do, You Do
In all subjects, model, model, model!  After you demonstrate, complete the work together.  Once there is a level of understanding, transition the child to working independently.
4.  Have Fun, Show What You Know, & Celebrate
If learning is a game, a craft, a field trip, or something else enjoyable, often the fear of failure is eliminated.  When that is missing, children's minds are primed and eager to take in new information.  Then, give them the opportunity to "show off" what they know.  A little praise and congratulations from Dad, family, and friends goes a long way.  Remember to celebrate even the smallest learning victories!
5.  Take Breaks Often
When you hit walls and frustrations are growing, put the books, papers, and projects away.  When the tears are flowing and you hit shut down, no learning is taking place.  Damage is being done.  Relationships are always more important!  You will be Mom a lot longer than you will be struggling with phonics and fluency or administering math tests.  Children need to know that their value and worth and your love for them is not based upon academic performance.


Angela Wells blogs at The Wellspring of Life. She is fearfully and wonderfully made by the ONE true God. She is His adopted child and seeks to follow and serve Him daily. Angela is the wife to her wonderful hubby, Jon, and is blessed to be called Momma by Jeremiah, Caleb, Rachel, and Eden. She is a homeschooler and adoption/orphan care advocacy is her great passion.
The most effective way to learn a foreign language is to actually use that language in day-to-day life. Most of us can't just pick up our families and move to another country for language immersion, so products that help you replicate that environment into your home are extremely helpful to homeschoolers. Spanish for You! was created especially for mixed-age groups in the 3rd-8th grade range. Students learn to write, read, and speak Spanish through materials appropriate for their age, while providing plenty of opportunity for practice communicating.
Two full-year programs centered around topic areas, Fiestas (Celebrations) and Estaciones (Seasons), are currently available. Reviewers have been using Spanish for You! with their families, and are ready to share their experiences. Spanish for You! is centered around themes, rather than levels, allowing parents to choose packages based on interest, rather than level of experience. A third theme, Viajes (Travels), is available right now as a short trial program; the complete package will debut in June 2013.
Each Spanish for You! package has been tested by the author, over a full school year, in a teaching environment. This has allowed her to check for consistent quality and usability. Spanish for You! incorporates a variety of learning styles, with workbook pages, audio files, and s
uggestions for interactive learning and communication.

All Spanish for You! programs include a soft-cover textbook, plus multiple downloads that include:Lesson Guides include plans for 4-days per week, but it's flexible enough that more or less material may be covered, so long as the lessons are worked through in order.
a 24-to-30 week lesson guide in PDF format (grades 3-4 is 30 weeks; grades 5-6 and 7-8 are 24 weeks) – Sample lesson guide
self-checking worksheets for grades 3-4, 5-6, or 7-8 in PDF format – Sample worksheets
MP3 files of the entire book to use as the lesson guide instructs
bonus MP3 files of a native Spanish speaker reading the entire book
pictures for creating flashcards and other activities in PDF format
Spanish for You! has free mini lessons and free worksheets so that you can preview their style and approach. Also provided for free are many activity and game suggestions for practicing Spanish.
Spanish for You! allows you to purchase the configuration most appropriate for your family. A theme set that includes materials for all grade levels is $64.95. A package that contains just the file needed for a specific level – 3rd-4th, 5th-6th, or 7th-8th – is $39.95. Extra volumes of the textbook are $12.95 each. (The same text is used for all three levels.) Optional teacher lesson plans, only needed if you plan to use Spanish for You! in a classroom setting, are $12.95.
A big thank you to Shawna Bradley of Tenacity Divine for writing this introductory post.