This article is in collaboration with Wreaths of Maine.
Just in time for Christmas decorating, The Old Schoolhouse Crew would like to introduce you to Wreaths of Maine.
These beautiful, decorative adornments are handmade from freshly harvested tips of New England Balsam fir trees.  The wreaths are nice and full, with greens wired onto both sides.  The finished product will measure a full two feet across and come with its own hanger.
Wreaths of Maine may be purchased directly from their website, or you may see them as part of fundraising programs for homeschool families and other youth organizations.  This is a great opportunity for a homeschool fundraiser where children can sell wreaths door to door or direct friends and family to order online.  The youth will enjoy earning funds by earning commissions for their work.
When an order for a Christmas wreath is received, the wreath or spray is completed, then tightly packed, wrapped and shipped as quickly as possible.  They arrive in decorative boxes. To keep the bows full and uncrushed, they are placed in the middle and need to be attached by the recipient.
Once opened and given the chance to breathe, the tips will open up and the wreath will soon ready for hanging.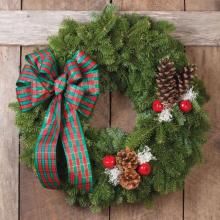 What a welcoming sight for holiday visitors!!
To see all the beautiful style choices, learn more about the company, or to learn more  about their fundraising programs, visit the website at www.wreathsofmaine.com .  Wreaths of Maine is also on Facebook, YouTube and Twitter.
Powered by Linky Tools
Click here to enter your link and view this Linky Tools list…
Thanks to Catherine from Our Village is a Little Different for writing this article.