This article is in collaboration with Artistic Pursuits.
Crew members chosen for this review received their choice of Artistic Pursuits' products, selected from the following:
Preschool
K-3 Book One
K-3 Book Two
K-3 Book Three
4-6 grade, Book One
4-6 grade, Book Two
Jr. High Book One
Jr. High Book Two
Sr. High Book One
Sr. High Book Two
While the K-3 books focus on introducing your children to artistic techniques and on learning art through history, the upper level books provide an overview of drawing in Book One and color theory and composition in Book 2.  At the younger levels, there are 32 projects in each book, while at the upper levels (4-6, Jr. High, and Sr. High) there are 64 total lessons in each book.  Since all of the books are non-consumable, a one-time purchase will serve to teach art to your entire family.
Each of the Artistic Pursuits books follows a similar format, addressing composition, art history, and media at an age appropriate level.  Students receive both art instruction and plenty of hands-on projects, while moms have the lessons broken down for them in every detail.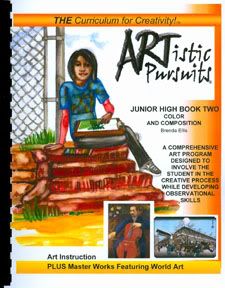 Artistic Pursuits has won a plethora of awards in the homeschooling community, including repeated first places in the Practical Homeschooling Reader Awards, Favorite Fine Arts Product from the 2010 Homeschool Crew, and first place in the art category in the Excellence in Education awards.
If teaching art is something you find intimidating, looking at Artistic Pursuits is a must.  The Artistic Pursuits books Crew members received retail for $42.95.  Artistic Pursuits also sells the artist supplies required by the curriculum.  Prices vary according to which level is purchased.
Read what the Crew members had to say about the various levels they received for review:
Powered by Linky Tools
Click here to enter your link and view this Linky Tools list…
Thanks to Laura from My (re)Viewpoint for writing this article.