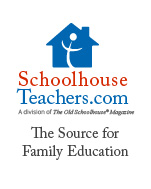 Marcy, one of the Crew's best and beloved assistants, decided to share her thoughts about The Old Schoolhouse Magazine's exciting brand new SchoolhouseTeachers.com!  If you don't know about SchoolhouseTeachers.com or want to understand what it is all about, read this great review! Thanks, Marcy, for sharing it with us!
You may have noticed that the new digital version of  TOS Magazine is open access, meaning it is free to everyone now through their FREE apps available for iPhone, iTouch, iPad, and Droid. The current issue is also free to read from any computer at this address: http://TOSMagazine.com.
In the past, when you subscribed to the magazine, one of the side benefits was the Teacher's Toolbox. We enjoyed  the Teacher's Toolbox, especially the freebie unit study each month, but we didn't really utilize it much more than that.
Things have flipped.
While the magazine is free, the paid subscription service is now an updated version of the Teacher's Toolbox, called SchoolhouseTeachers.com.
But it's so much more than the old Teacher's Toolbox ever was.
One of the coolest features of SchoolhouseTeachers.com is that there are now real live teachers for several subjects who are, or will be, providing lesson plans on a daily or monthly basis. You just log on and see what's there for the day or the month. It's easy peasy to use.
Some of the teachers include:
Diana Waring for History (Diana Waring Presents)
Terri Johnson for Geography (Knowledge Quest)
Kim Kautzer for Writing (WriteShop)
Malia Russell for Home Ec (Homemaking 911)
Adam Andrews for Literature (Center for Literary Education)
Andy Harris for Technology (author and professor at IUPUI)
Joy Sikorski for Music (Singing Mastermind)
Our favorite activity for this month was Andy Harris' Geography Lesson using Google Earth. We learned how to find famous places (we looked at Mt. Rushmore, the White House, and Papa John's Cardinal Stadium–GO CARDS!!). We also turned on animal tracking and attempted to look for a tagged animal, but we were in a hurry that day and didn't see one–we'll try that again. We also took a look-see at the street view of our house, as well as the houses of several friends and family members. Ben loved this activity so much that one day while we were at the library, he ran to log onto the computer to spend more time on Google Earth, utilizing their ginormous flat-screen monitors, while I looked for some books. He has also been inspired to make a list of all the places he wants to discover. I can see using this tool for many of our homeschool lessons. Learning about pyramids? . . . head over to Egypt to see one! Grand Canyon in your lesson plan? No problem, find it on Google Earth as well. So. much. fun.
We have also really enjoyed the creative writing lesson (Ben wrote a "color" poem) provided by Kim Kautzer as well as Malia Russell's fun dailies.
Some of these include:
Money Saving Mondays
Tidy Tuesdays
Wisdom Wednesdays
Think About It Thursdays
Feed Me Fridays
If you are a current subscriber of TOS Magazine, you have been grandfathered in to the Ultimate Level until your subscription runs out, so be sure to take a peak. You can email customerservice@thehomeschoolmagazine.com for your log-in information.
If you aren't a current subscriber, be sure to go check it out. You can try your first month for just $1!