This article is in collaboration with The Trigger Memory Co.
Times Tales is an innovative and creative way to allow children to memorize their upper times tables brought to you by The Trigger Memory Co.  Using cute, simple stories, Times Tales helps children to quickly recall the harder facts in the upper level of the multiplication chart.  Even better, Times Tales makes learning math facts fun.
Whether your student is learning their facts for the first time or they have been struggling to memorize their facts, Times Tales can be use by students as young as 5 years old.  Within an hour, your student will be answering quiz-show style questions on the video surprising both you and themselves at the number of math facts they were able to memorize
Facts that are covered include: 3×6, 3×7, 3×8, 3×9, 4×6, 4×7, 4×8, 4×9, 6×6, 6×7, 6×8, 6×9, 7×7, 7×8, 7×9, 8×8, 8×9, 9×9.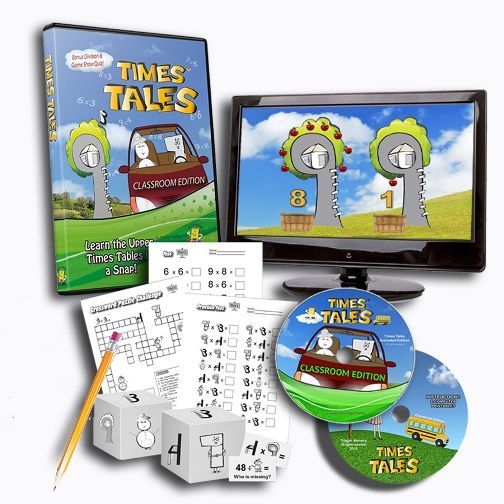 The Homeschool Review Crew was given the opportunity to try out Times Tales Digital.  With the Digital download option, you will have downloadable access to all the materials on the Times Tales DVD, including the printables that come in three PDF files.  The easy to print PDF files include flashcards, crossword puzzles and games to be used along with the video material that your child is watching.  It is also non-consumable, so you can use it with multiple children in your family.  Saving you money
The Times Tales Digital Download is also wonderful for International orders since there are no shipping costs to incur, and you have digital access within 24 hours.
You can visit their Times Tales at their website and also view their latest information on Facebook
—oOo—
A Big thank you to Renita of Krazy Kuehner Days for writing this introductory article.