This article is in collaboration with Memoria Press.
Memoria Press is a family-run publishing company who strives to make classical Christian education resources that are easy to use for home and private schools. Memoria Press was founded in 1998. It has been taught at Highlands Latin School where it has been successful in the field test.
Our Review Crew families have had a wonderful opportunity to give the literature units a test run in their homeschool house. While working on our vocabulary, spelling composition and comprehension we have had a chance to read some great books! There are many different levels to choose from, so take a look and find the one, or more, that fit your family's needs.
StoryTime Treasures is aimed at the first graders who are ready to jump into real books. The books for this guide are Little Bear, Little Bear's Visit, Caps for Sale, Blueberries for Sal and Make Way for Ducklings.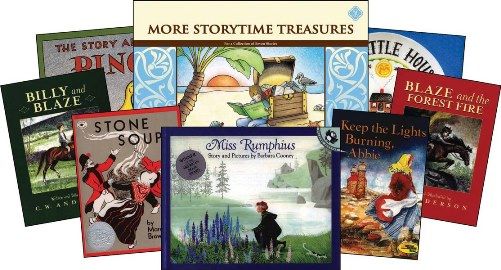 More StoryTime Treasures will build off of what your first grader has learned in 7 different treasures. The books you will jump into include, Billy and Blaze, Blaze and the Forest Fire, The Story About Ping, Keep the Lights Burning, Abbie, Stone Soup and The Little House.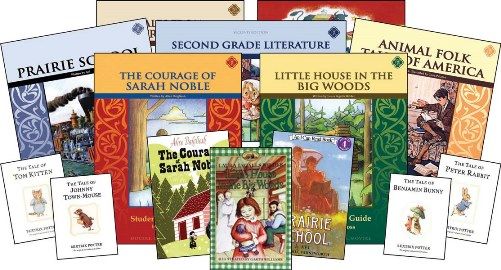 The Second Grade Literature unit will take your child slightly out of their comfort zone while developing them into superior readers. Your children will continue to focus on vocabulary and spelling while learning more about comprehension and composition while reading Prairie School, Animal Folk Tales of America, The Courage of Sarah Noble, Little House in the Big Woods and Tales from Beatrix Potter

With the Third Grade Literature Guide, your children will continue to develop into superior readers while reading and studying Farmer Boy, Charlotte's Web, Paddington Bear, and Mr. Popper's Penguins

The Fourth Grade Literature Guide will introduce your child into the writing and thinking aspect of learning, making them active readers. The books that are read during this unit are Cricket in Times Square, Homer Price, The Blue Fairy Book and Dangerous Journey.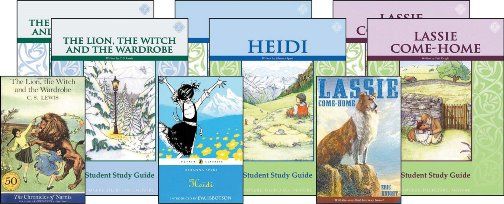 The Fifth Grade Literature Study Guide will have you and your child reading The Lion, the Witch and the Wardrobe, Heidi and Lassie, Come Home.

The Sixth Grade Literature Study Guide will continue with the vocabulary, spelling, comprehension and composition along with the active reading skills. In this guide, your children will be introduced to Adam of the Road, Robin Hood, Door in the Wall, and King Arthur.

In the Seventh Grade Literature Guide, you will let your kids read and analyze books like Anne of Green Gables, The Hobbit, The Trojan War and Bronze Bow.

Active reading continues on into the Eighth Grade Literature Guide when you show your children books like Wind in the Willows, Tom Sawyer, Treasure Island, and As You Like It.

The Ninth Grade Literature will focus on Old English and Medieval works. These will include Beowulf, Sir Gawain and the Green Knight, The Canterbury Tales and Henry V.
You can connect with Memoria Press on social media
Facebook – Memoria Press
Twitter – @MemoriaPress
Instagram – @memoriapress
LinkedIn – Memoria Press (Primary/Secondary Education)
Pinterest – Memoria Press
—oOo—
A big thank you to Amanda of Hopkins Homeschool for writing this introductory article.