This article is in collaboration with Times Alive.
The Homeschool Review Crew has been busy learning their multiplication math facts using Times Alive online version from Times Tables the Fun Way!  The software is based on their popular book Times Tables the Fun Way! For this review, the Crew was given a three-month subscription.
Times Tables the Fun Way uses a picture/story method to assist students in memorizing their multiplication facts. Each multiplication fact is introduced via an effective story linking the fact with a graphic.
Times Alive uses cartoons, stories, and songs to assist in multiplication fact retention.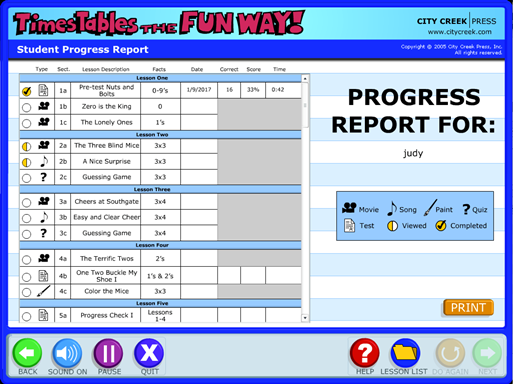 Tracking student progress is easy with their progress report page. Here you will see which lessons your student has completed, which ones they have begun or skipped over, and their progress test scores.
Subscription is available for purchase from City Creek Press – Monthly Subscription Online Version. To use this software version, you will need an internet connection, a computer (specks available online). It keeps track of several students at a time as long as they use the same computer each time they practice. Times Alive works on all operating systems and will run on your iPad (You will need a FLASH app to make it work).
Connect via Social Media
—oOo—
Thank you, Chareen @ Every Bed of Roses, for this introduction article.