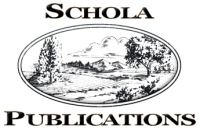 Do you struggle in teaching grammar, spelling, and reading to your younger children?  What about Latin?  Have you considered including Latin in your school curriculum?  If you've answered "yes" to any of these questions, then you should check into the thorough curriculum choices offered by Schola Publications.  Author Barbara Beers has put together some very in-depth programs for teaching your students – elementary through high school levels.
The Homeschool Crew will be reviewing various products from Schola Publications (based on the ages of their child(ren)).  Be sure to check back here at our blog to find reviews by the Crew for the following products from Schola Publications:
Great spellers are ALWAYS great readers, but great readers are often weak spellers! This is because most curricula emphasize some level of the whole-word method to teach reading, believing that if a child can read, spelling will take care of itself. I contend that spelling is a logical preliminary skill to reading.
The PHONICS Road to Spelling and Reading is a complete K-4 curriculum offering the parent a comprehensive video teacher training text with an emphasis on accurate speaking, spelling, writing, reading, grammar, composition, and preparation for The LATIN Road to English Grammar.
Good News!! You CAN teach Latin even if you have never studied it before! Schola Publications introduces The LATIN Road to English Grammar, a comprehensive language curriculum designed for anyone who desires to gain a better knowledge of English through the study of Latin. This curriculum is so complete that you can learn and teach Latin at the same time – you learn along with your students. All the materials you need are included for easy learning and teaching: textbook, worksheets, tests, vocabulary cards, answer keys, lesson plans, verb charts, audio CD's for pronunciation and teacher training DVDs.
During the course of study each student develops his own Latin-English handbook. All information concerning grammar and vocabulary is presented in a balanced combination of oral and written work. Students will hear, say, see, read, and write Latin and English constantly. In this way all students can learn with their strengths and yet also practice their weaknesses. This multisensory method of learning does far more to instill the information in the student's mind than a mere workbook method. Everything is clearly defined, and, equipped with the essential components, any student is able to analyze both English and Latin.
For those students in 3rd/4th grade, you can now prepare for The LATIN Road to English Grammar with our one-year introduction called The BRIDGE to the Latin Road. The BRIDGE to the Latin Road gives the teacher and student not only a good working introduction to Latin in the form of common Latin roots, prefixes, and suffixes, but a solid introduction to all the sentence structures that will later be encountered in Latin translations in The LATIN Road to English Grammar, all taught on DVD.
Crew members, please sign the Mr. Linky below with a direct link to your Schola Publications reviews.