One of the first products the Crew members received for review was a spelling program by All About Spelling – you can see the Crew's thoughts on that program here.  Now, the Crew has received a new e-book, from the makers of All About Spelling, called All About Homophones.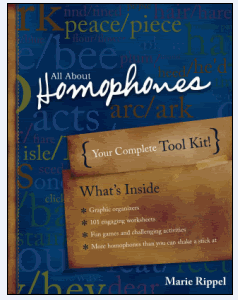 Here is a bit about this book:
Homophones are words that sound alike but are spelled differently (such as *bear* and *bare*, and *peace* and *piece*). A great way to teach your child correct word usage is by providing practice through a number of interesting activities.
All About Homophones: Your Complete Tool Kit includes engaging worksheets, homophone games, activity cards, a huge list of homophones, and more. Your children will have fun while learning these sets of words!
Be sure to check out the FREE online Homophone Machine at http://all-about-homophones.com/homophone-machine.php
If you'd like to see what the Crew has to say about this book, be sure to check back often.
REMEMBER, the Mr. Linky's here on our blog are ONLY for the Crew members to sign – thank you.