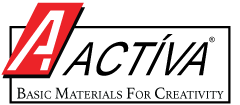 This article is in collaboration with
ACTÍVA.
Homeschooling. Art. For the crafty moms, art isn't a problem. But for those of us who aren't artistically inclined, the idea of doing art can just loom over you.
Enter the Rigid Wrap and CelluClay Quik Sculpt Starter Kit from ACTÍVA. This paper Mache kit comes directly to your doorstep with everything you need inside to make some fabulous art projects with your kids without getting stressed out while doing it. And even better, if you want, you can also use them to do something that combines the art with science as well. Each box includes:
Two rolls of Rigid Wrap plaster cloth
8 ounces of CelluClay
Instructions for 12 craft projects for you to try
Access to a FREE eBook which includes a ton of ideas for using the products in the Quik Sculpting Kit.
The ideas presented in both the instruction book and the eBook are aimed at children, however, more advanced crafters could definitely make use of them as well. If you are just doing the basics, this project is definitely for you. And if you are more advanced, you'll definitely be able to take this and run with it! From a butterfly to a mummy, a mask or a candy dish, a volcano or beads for a bracelet, this box allows your family to embrace art — not dread it.
Please take a moment to read one or all of the reviews shared below. These are from actual reviewers, other homeschool parents, moms, and dads just like you and me, who used the Rigid Wrap and CelluClay Quik Sculpt Starter Kit from ACTÍVA. You can check out pictures of the project they chose to do with their box and see how well this might work in your own homeschooling family.
Enjoy! (I know we did!)
Connect on Social Media
—oOo—
Thank you to Wendi K @ Wendi Kitsteiner for writing this introduction article.