It's that time of year – time to start planning for Christmas.  If you have children on your gift-buying list, then you should considering checking out One 2 Believe.
One 2 Believe is a company with a reputable vision – to give children lots of opportunities to learn about Jesus and Biblical character traits.  What better way to teach children than through play?
Though One 2 Believe has many toys available – you'll want to be sure to check them all out – the TOS Homeschool Crew will be receiving the Nativity Figurine Set for review.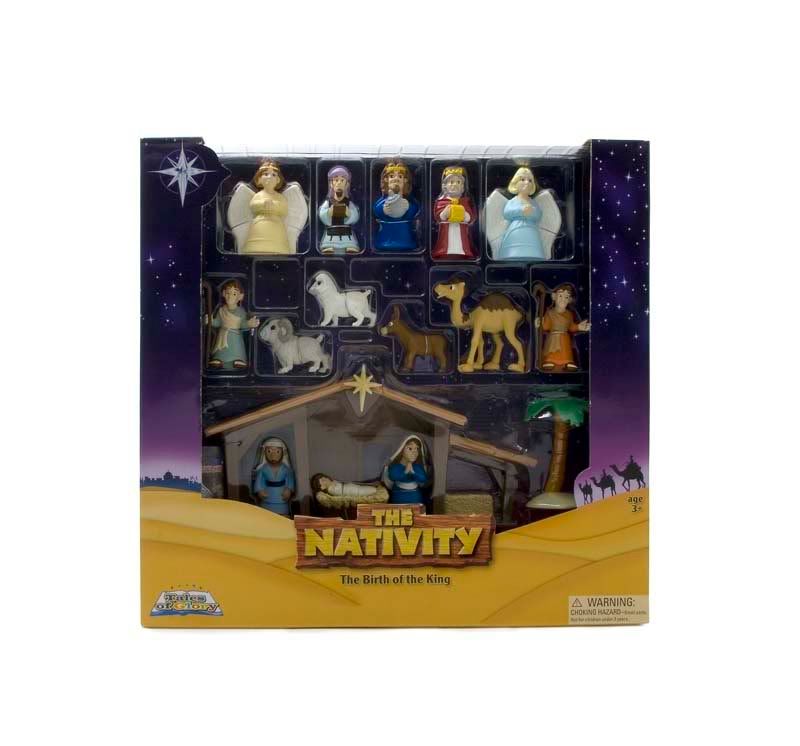 This particular set contains a storybook and 17 pvc figurines.  It's everything you need to share the Nativity story with your children.  Though I have a feeling your little ones will enjoy playing with this toy year-round, it would certainly be great fun to bring out year after year and create some new memories and traditions with your children.
Annmarie says: In our home and in many Christian homes it is annual traditional to put out a Nativity set for Christmas. Nativity sets are so beautiful and are often placed out of the hands of young ones. What a wonderful idea to come up with a nativity set designed with the young child in mind. One that they can touch, play with, and act out the Christmas story.
LynnP says: This is the perfect toy to give as a gift and will last for many years. My boys which are 9 and 6 fell in love with this set and are now begging for me to get them the other sets they carry. Nothing touches a mother's heart more than hearing her children wanting to play with and learn more about the life of Jesus.
Dawn says: This set is kid-friendly; my kids can play with it and I don't worry that it will break. There is a small book that tells the story of Jesus's birth in a short and simple manner, perfect for short attention spans.
Be sure to check back often and watch for the Crew's thoughts on this toy set.  In the meantime, feel free to check out the One 2 Believe website and look at all their great toys for kids.
Mr. Linky is, as always, for CREW MEMBERS ONLY.  They will sign it with a direct link to their reviews.