This article is in collaboration with The Pencil Grip.
Teaching students art often means exploring various art medias such as pencil, markers, and paint. However, for younger students, paints can often be a very messy experience, resulting in "art" beyond just the paper or project they are working with.
Members of the Crew have spent the last few weeks creating mess free art using Thin Stix 6pk of Classic Colors from The Pencil Grip, Inc.
Thin Stix are solid, non-toxic tempera paint sticks that require no water or paint brushes to use. They use the same formula used in Kwik Stix paint sticks, however, Thin Stix provides a smaller tip for smoother control on projects that need thinner coverage.
Used much like a fat crayon or marker, kids simply draw or color with them. They dry quickly to eliminate the paint running or smudging and the handy cap pulls off easily for smaller hands and a simple twist at the bottom of the stick allows access to more paint as needed. Paint dries within 90 seconds and does not crack or flake.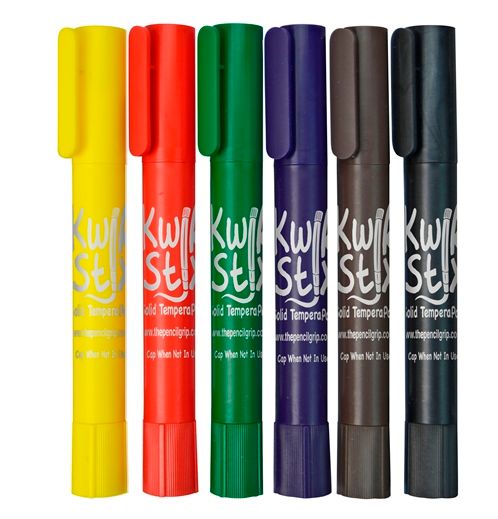 Thin Stix 6pk come in six classic colors: red, blue, yellow, green, brown and black. The colors are creamy and provide full coverage on any project and can be used on a variety of surfaces such as paper, cardboard, wood and stone and clean up quickly from the skin using soap and water.
Visit The Pencil Grip, Inc. on Social Media
Facebook: https://www.facebook.com/thepencilgrip/
Twitter: https://twitter.com/thepencilgrip
Pinterest: https://www.pinterest.com/KwikStixPaint/boards/
—oOo—
Thank you to Brenda P @ >Counting Pinecones for writing this introduction article.