Marshall Publishing and Promotions, Inc. is a multi-faceted media publishing organization whose management team has 30 years of experience, successfully producing and representing television and home video programs written for all ages.
You may already be familiar with their trademarked, AS SEEN ON TV "Lots and Lots of" brand DVD's and books. In 2011, members of the Crew had the opportunity to review the Lots & Lots of Fire Trucks & Firefighters DVD and book set, and the George Washington Carver  DVD; so this year we were especially excited when asked to review four different DVD's.
THE OREGON TRAIL – The reasons for going…the hauntingly beautiful landscape…the rivers they followed and crossed…the joys and hardships…and the elation and the dissension as described in immigrants diaries…all come to life in this detailed account of Americas longest and most famous trail. Approx. 35 Minutes.
and
THE PONY EXPRESS – Glossed over by all of the adventure and romance attached to it, most people don't realize the Pony Express lasted only 19 months. It was a grand gamble that eventually led to the bankruptcy of the three men who started it. Yet, during its brief life span it caught the attention of Americans, made a legend of the riders and provided a vital link between California and the Northern states at the onset of the Civil War. Approx. 16 Minutes.
You'll find both programs on 1 DVD, on sale now for $19.95. There is also a Study Guide available.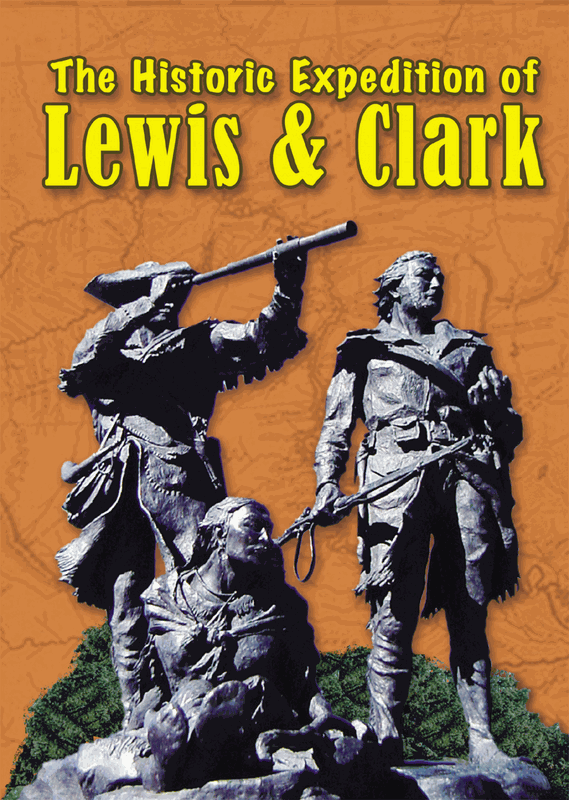 This is the story of one of the most significant and dramatic explorations in American history. The journey of Meriwether Lewis and William Clark, complete with diary excerpts, encounters with Indians, the sometimes threatening landscape, and a summary of the objectives and accomplishments of their 8,000-mile journey into the unknown. Beautiful photography, live re-enactments, illustrated maps and rare photographs make this historical adventure come to life and one that will entertain and educate all age groups for years to come. Approx. 35 minutes. This DVD is on sale now for $19.95.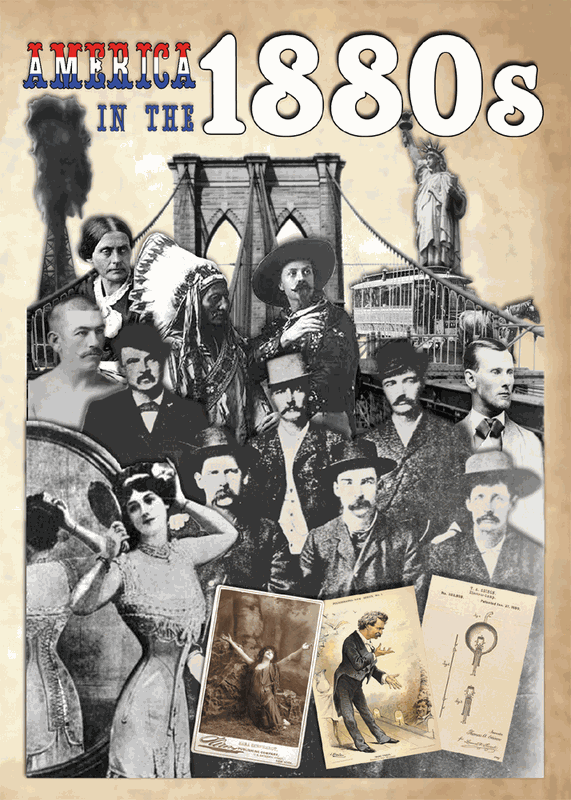 What was life like in America in the 1880s? Just like a time machine, this DVD will transport you back to discover the people and events that shaped this exciting decade: the Brooklyn Bridge …Washington Monument …Statue of Liberty …Gunfight at the O.K. Corral …Oklahoma Land Rush …Johnstown Flood …Thomas Edison …Mark Twain …Baby Doe …Sitting Bull …Sarah Bernhardt …John Philip Sousa …Buffalo Bill …Gilbert and Sullivan …Wyatt Earp…Jesse James and Billy the Kid ….Alexander Graham Bell ….John D. Rockefeller ….Andrew Carnegie ….Samuel Gompers ….Susan B. Anthony ….Lillian Russell ….and many others! You will learn about fashion, politics, sports heroes, famous inventors, Wall Street financiers, railroad expansion, buffalo extinction, Indian resettlement, Civil Rights, union organization, urbanization, the music of the times, and much more!
There is also an archival documentary short film about the life of Alexander Graham Bell, his work with the deaf and the invention of the telephone, as a bonus feature of this DVD. Approx. 60 total min. This DVD, and a correlated Study Guide, is on sale now for $19.95.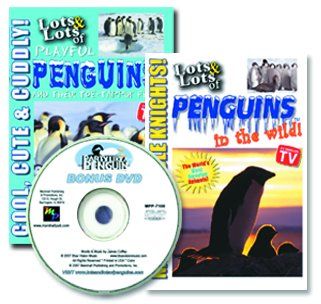 This set includes 2 DVD's –
Lots & Lots of Playful Penguins and their Toe-Tappin' Happy Feet
, and
Lots & Lots of Penguins in the Wild!
, plus a bonus animated music DVD – Party Like a Penguin! Regularly priced at $39.90, you can get the whole set now – just $19.95!
Lots and Lots of Playful Penguins
, features some of the most incredible video footage of penguins in their natural and captive habitats you've ever seen. Listen to their calls and cries – it's absolutely fascinating! Plus, you'll also learn interesting facts and trivia about all 17 kinds of penguins from around the world. You'll also see other cold-weather creatures like polar bears, seals, and wild birds, and rare views of the majestic scenery of Antarctica. Then, you'll want to jump out of your seat and dance along with the fully animated penguins, to the hottest beat south of the border in the animated hit music vide0 –
Party Like A Penguin!
Approx. 75 min.
In Volume 2,
Lots & Lots of Penguins in the Wild!
get up-close and personal as the cameras travel into the wilds of Antarctica, Australia and other scenic penguin areas in the Southern Hemisphere. You will journey right into the untamed world of penguins as you see and hear them in their natural habitats. You will see penguins nurturing their babies, feeding young, building nests and habitats, playing, swimming, hopping on rocks, waddling around and much more. Approx. 30 minutes.

Marshall Publishing – you'll find "Lots & Lots of…" fun, entertainment, education, and amusement for the whole family!