Logic of English offers an approach to reading instruction that is based on the fact that 98% of English words can be understood if the student learns just 74 basic phonograms and 30 spelling rules. It teaches reading, spelling, and writing all at the same time using multisensory activities that appeal to all types of learners.
Some of the Schoolhouse Crew reviewers have been using one of the two complete language arts curriculums Logic of English offers — either Essentials or the first book in the Foundations series. Other reviewers have been using the Rhythm of Handwriting program.
The Essentials program is designed for children who are at least eight years old, but includes suggestions for using the materials with younger children. It contains 40 lessons which completely cover reading instruction, spelling, grammar, vocabulary and writing. To teach this program, Logic of English recommends having the hardcover Teacher's manual ($95), a student workbook in either manuscript or cursive ($25), and the basic phonogram flash cards ($18). Reviewers received all of those materials, the Phonogram and Spelling game book ($25), and two of the phonogram game card sets ($10 each).
The Foundations program takes all of the research that goes into the Logic of English and makes it fun for early learners. It is a complete reading, phonics, spelling and handwriting program for students ages four through seven. Foundations A uses a colorful inviting book and active learning games to teach all of the single letter (A-Z) phonograms. The student learns to read and write single-syllable, short vowel words in this level. The recommended items for this level include a Teacher's Manual ($38) and a Student Workbook ($18, available for either manuscript or cursive handwriting). Reviewers also received basic phonogram flash cards ($18), a student whiteboard ($12), handwriting tactile cards ($28), the Rhythm of Handwriting Quick Reference chart ($10), and two sets of phonogram game cards ($10 each).
Logic of English offers a Phonograms App (for iPad, iPhone, or iPod) that helps teach and review the basic phonograms covered in the Essentials and Foundations programs. Crew members using those programs were given the opportunity to use the app as well. The app costs $2.99 and can be purchased through iTunes.
Logic of English also offers Rhythm of Handwriting, an easy to teach handwriting program available for either manuscript or cursive. These materials aim to develop fluid handwriting for students of all ages. Crew reviewers received a Rhythm of Handwriting book ($18 for manuscript or $15 for cursive)  and a Handwriting Quick Reference chart ($10).
Click on the banner below to read the Crew Reviews.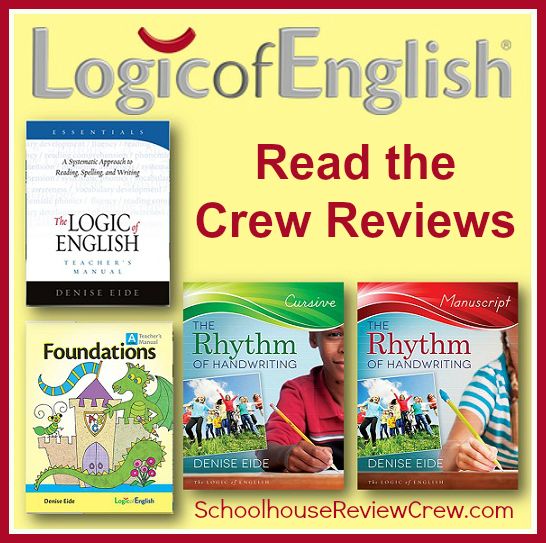 A big thank you to Cristi of Through the Calm and Through the Storm for writing this introductory post.