This article is in collaboration with Tri-Cross.
The Crew members were thrilled to hear they had the opportunity to play and review Tri-Cross, from the fine folks of Games for Competitors. Each reviewer received their Eco Version of Tri-Cross, as well as the board game version.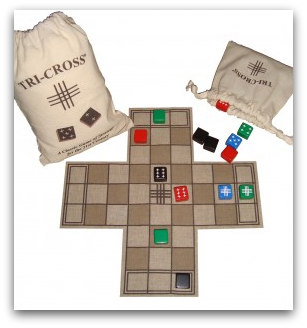 The Eco Version of the game stays true to the signature board style and scratch proof game pieces, yet, does so in an environmentally friendly way. Trading in the large cardboard box for a resource reducing, organic cotton drawstring bag, the organic cotton cloth board, printed with non-toxic soy-based inks, is easily folded to fit inside with the game pieces. Perfectly compact to fit on the shelf or to throw in your bag for on-the-go game play.
So, exactly what is  Tri-Cross?  Tri-Cross  is a strategy game with a twist.  The creators have noted that Tri-Cross is a cross between Checkers and Chess. Tri-Cross has had the ability to peak the interest of both boys and girls, from elementary school through high school and beyond.  Tri-Cross has tucked learning right inside it's gameplay, which as homeschoolers, has a wonderful appeal. Look what the games' website says about all there is to learn by playing Tri-Cross:
Helps develop skills in the following areas:
Logical Thinking

Cause and Effect

Predicting

Interpreting Outcomes

Abstract Thinking

Memory (In Variations of Play)

Visualization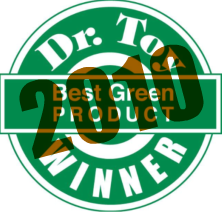 With accolades ranging from being named Dr. Toys 2009 100 Best Children's Products to Creative Child magazine's Creative Toy Awards 2008 game of the year and earning the national Parenting Center's Seal of Approval. Tri-Cross has sky rocketed to fame for it's ease of play and fun, competitive nature.   Click here to see a video discussing the game. You can purchase Tri-Cross by visiting their website GamesforCompetitors.com . There are 3 versions of the game, Standard, Eco and the Wood Edition. Prices start at $19.95. Available on the website you will find more info on the games, as well as some video tutorials on how to play!
Powered by Linky Tools
Click here to enter your link and view this Linky Tools list…
Special thanks to Crew Member Jennifer from Creative Learners for writing this article.