This article is in collaboration with Before Five in a Row.
For years, home educators have loved the Five in a Row approach to learning, a plan where the parent and child reads the same book aloud for five days in a row. After each reading, they discuss various aspects of the story or complete the suggested activities. The original Five in a Row materials were geared towards early elementary students, but we were lucky to review the book that they've developed for younger children.
Before Five in a Row by Jane Claire Lambert is designed for preschoolers, roughly two to four years old. Instead of formal academics, this book shares activities to create special memories with your child and to help develop important the pre-learning skills needed for later educational endeavors.
The first part of the book includes twenty-three mini-units based on beloved picture books. The list of great books includes Jesse Bear, What Will You Wear?, We're Going on a Bear Hunt, Corduroy, Caps for Sale, Blueberries for Sal, and other treasures.
The second half of this book is subtitled, "Parents Treasury of Creative Ideas for Learning Readiness." This section contains activities for building reading readiness and for developing motor skills (both gross motor and fine motor). There are fun play activities that can be used anytime, ideas for bath time, suggestions for in the kitchen, and things to do at the store.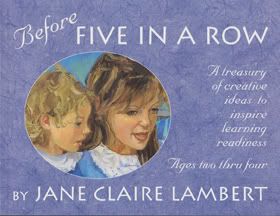 Powered by Linky Tools
For visitors to view the list of reviews, and for Crew Members to enter your links, please Click here.
Special thanks to Crew Member Cristi from Through the Calm and Through the Storm for writing this article.