This article is in collaboration with Everyday Homemaking.
Homeschooling to me isn't just about learning reading, writing, and arithmetic. It is also about learning life skills to prepare your children for the future. We need to teach our children how to cook, how to meal plan, how to take care of the home, and how to manage their time. This is why the Homeschool Review Crew was excited to receive products from Everyday Homemaking to review.
Everyday Homemaking is a website created by Vicki Bentley. She designed her site not only to sell her homemaking products, but also to give parents practical ideas and tools to help us manage our time and household. She believes in helping get children involved and teaching them while they help. Her website is filled with ideas, tips, products, and resources to help the family. Vicki is no stranger to raising children as she is a mom of eight children and a foster mom of fifty children. She knows how busy a schedule can get and has great ideas for making it work.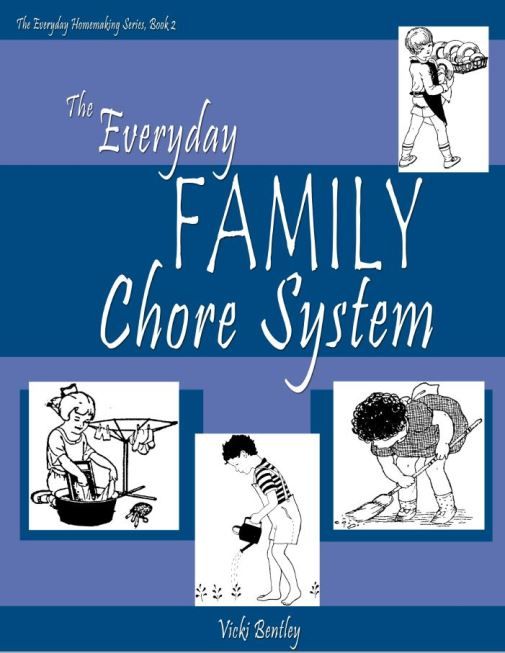 The Homeschool Review Crew recently received either The Everyday Family Chore System or Everyday Cooking to review. The
Everyday Family Chore System
is an 88 page book that is full of practical ideas to get your family to help at home. It includes Vicki's tried and true How-to-Do-It cards for chores, tips on organizing your household, and forms and lists that help you implement her system.
Everyday Cooking
is a collection of tried and true recipes for simple, everyday cooking. The book emphasizes whole foods cooking and she gives substitutions for using less white sugar and flour throughout the book. It also includes kitchen and cooking tips, shopping list forms, sample menu plans, and even cooking bloopers. It available as an e-book or in print version.
For more information on either of these products or the many practical ideas that Vicki has to offer check out Everyday Homemaking and follow her on Facebook.
—oOo—
Thank you to Cassandra H. of A Glimpse of Normal for this introduction article.