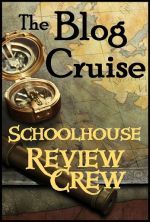 Welcome to the first Blog Cruise of the summer! We're changing the format of the Schoolhouse Review Crew Blog Cruise just a bit. In the past, we have always asked a question and our bloggers answered the question in their Blog Cruise articles.
Now, instead of a question, we are focusing on a certain topic. For the summer Blog Cruises, some of the topics will include Summer Field Trips, Beating the Heat, Summer Staycation Ideas, and Summer Gardens!
For this first summer cruise, we bring you Summer Reading!
Oftentimes, the more rigorous homeschool schedule settles down during the summer months. Families are enjoying more outdoor activities, sports, and camps. It's the perfect time to add some additional reading to the day!
So come along on this week's Summer Reading Blog Cruise and learn how members of the Crew incorporate more reading into their summer schedules.
From Karyn T. at Teach Beside Me — Free Classic Books for Kindles
"One thing that we have been taking advantage of since we got our iPad is the Kindle App.  It has been so wonderful for our family.  If you go to Amazon.com, there is a HUGE selection (thousands) of free Kindle books that you can download right to your iPad."
From Angie W. at Petra School — Book Reading Bonanza!
"In the summer months – for the chance to peek into the Treasure box, earn a free t-shirt, get their name on the wall, and for a glance at the smiles that our librarians freely administer – they will read more – in these two months – than they will read without learning requirements all year."
From Gwen T. at Tolivers to Texas — Hot Summer Days, Great Summer Reading
"In our family, we do lots of read-alouds. Even with my older kids that are very proficient readers, there is something powerful about hearing a great book and sharing the plot and suspense with others."
From Brandy B. at Kingdom Academy — I have to read in the summer?
"That said, I do think it's important for kids to read a little every day. I consider it 'brain exercise' . So, yes, I do require both of my boys to read each day, but I do let them choose WHAT they want to read. (During the school year, there are certain novels that are required, but I want summer reading to be fun)."
From Jenn H. at White Trash Mama — Summer Lovin' . . . books
"I remember all of the things that I have only just learned as an adult teaching them. I remember that they have the rest of their lives to continue to learn as they continue to love learning. Loving reading is a big part of that. If they can read, they can learn."
From Melanie S. at A Year of Jubilee Reviews — Summer Reads for Teen Boys
"I spend a good amount of time seeking out series of books for my teen boys, as the 17 and 15 year sure do enjoy a good book! I thought I would share with my readers a few of the books deemed good reads by my boys."
From Jessica K. at Modest Mama — Our Summer Battling Monsters
"I adore books by Rick Riordan. They are exciting and face-paced and are written like they are meant to be read aloud to a bunch of kids tired from a summer day of running and swimming."
From Lori S. at Special Connection Homeschool — Dreaming Big-Reading 1000 Pages
"One of our most beloved summer activities is signing up for the Summer Reading Program at our local library.  The theme this year is 'Dream Big.'  I was a little nervous signing up at first because this is the first year that Gess transitions from counting how many books she reads (20) to reading 1,000 pages."
From Kim M. at Homestead Acres — Summer Reading~Adventures in Nature and History
"My children enjoy reading nature books in the summer.  Bugs, snails, snakes make wonderful topics for children and spur many nature drawings and collections."
From Tara M. at This Sweet Life of Mine — Books, Books, Books
"We will be keeping track of how many books we read (cumulatively) and earning prizes as we go. We will earn a prize/outing for each 100 books we read."
From Tonia L. at The Sunny Patch — TJ's Summer Reading List
"Now that TJ is easily reading chapter books, I thought it was time to give her a summer reading list. After browsing a few homeschooling websites and boards and looking at our bookshelves, I pulled out a pile of books."
From Patsy B. at Ms. B's Bonnet — Even Teens Need Story Time
"Teens are busy people. They often have co-op or post-secondary classes, jobs, and club activities to attend. It can be challenging to find mutual time to enjoy a book together. The good news is that not much time is needed. Just 10-15 minutes per day will do. '
From Tess H. at Circling Through This Life —Which Book? Which Book? So Many Books, So Little Summer
"We'll be schooling through the summer not taking much of a break from home education but because it's summer, we'll be adding in some just for fun books. We've decided that we'd like to do some of our summer reading as family read alouds."
From Tiffany D. at The Crafty Home — Free Summer Reading Programs
"Thankfully, my kids are bookworms too.  And to further develop their nerdiness I try to enroll them in as many reading programs as I can.  Here are the free ones I have found and will be using this summer."
From Julie C. at Creatin' Classical Chaos — Reading is so Delicious — Summer Reading Program
"Lucas was able to join the summer reading program at the library this year. Each year they have a new theme and this year it is "Reading is so Delicious". Everything is food related. Who doesn't love that?"
From Wendy R. at Life at Rossmont — Let's Read This Summer!
"Each summer, I like to have my children get involved with various summer reading programs."
From Jennifer K. at The Chick 'N Coop — Unschooling Myself
"At the end of every school year I stock up on books-for myself. Lots and lots of homeschool books! I try to get my hands on some new ones, or review some that I have read in the past. They are sitting on my night stand, so I can flip through them before I go to bed."
From Alyson B. at Family Style School — Keeping Kids Motivated to Read by Choice
"Here are a few ideas to keep your kids reading throughout the summer."
From Amy B. at Bow of Bronze — Making the Most of Your Child's Summer Reading
"Whether you are entering summer reading programs with your children or not, you can use this simple idea to make the most of whatever reading you accomplish."
From Sara P. at Embracing Destiny — Summertime and the reading is easy
"This tradition of summer reading holds such a place in my heart that I want to continue it with my daughters.  Although we love reading all year long, the summer takes on a different pace.  We slow down."
From Angela W. at The Wellspring of Life — Programs, Incentives, Rewards . . . Start Reading!
 "If you are looking for programs, incentives, and rewards to encourage youngsters to read, summer is the best time of year.  All of these abound… you can find them in your hometown, a short distance away, and even online."
From Kym T. at Homeschool Coffee Break — Reading and Growing Up
"How strange that signing my TEENS up for a summer reading program would occasion my reflection on how quickly they are growing up, but it has."
From Debra B. at Footprints in the Butter — Making Plans for Summer Reading Programs
"And since every year about this time, I sit down and make a list of the various Summer Reading Programs I plan for the kids to participate in, I figured right now is the time."
From Lori L. at At the Fence — Reading Our Pansy Books!
"Pansy is the pen name of my absolutely favorite author!  Her name is actually Isabella Alden.  Her books were written around the late 1800's, early 1900's.  All of her books have a strong Christian theme."
From Jessica L. at Marmalade Mama — What we are reading this summer . . . 
"We just recently went on our weekly library run and brought home a crate full of new "reads" and I implemented a new requirement, each child must pick one thing from each of these categories . . . "
From Beth B. at Ozark Ramblings — Books for Boys
"I'll admit having struggles with getting Fritz to read as well.  While he can read chapter books quite well, he prefers listening to me or audio versions.  At least his still letting his imagination put the pictures in his head instead of the boob tube.  So here's what were reading this summer…."
From Blossom B. at North Laurel Home and School — Mission Possible: Read–With the Cuyahoga County Libraries
"This summer we are participating in the Mission Possible: Read program from Cuyahoga County Library. We each got a 'game board' to record our reading."
From Tracey M. at A Learning Journey — Summer Smart Bookworms Soar
" Luckily, there are many summer programs available for families to explore.  So let's encourage all our bookworms and readers to read to prevent summer learning loss."
From Lexi H. at Lextin Academy — Summer Reading: Attached to an Author
"Our strategy this year?  To read several works by the same author. Our authors of choice?  Laura Ingalls Wilder and Dick King Smith."
From Sarah D. at Ahoy Maties! — Summer Reading Challenge
"Motivating kids to read becomes more difficult as they get older and busier.  Reading, however, is crucial to vocabulary expansion and critical thinking skills.  We don't do much in the way of  formal school activities over the summer months; but, this summer I am giving our kids who are still school age a reading challenge."
From Cristi S. at Through the Calm and Through the Storm — A Family That Reads Together
"What I've decided to do this summer is to simply press on with the reading plan that I came up with a few months ago — family reading time."
From Cariann M. at Unionvale Homeschool — Get Ready for Summer with Summer Reading
"It is summer and unless you are like us and school basically year round then you are probably looking for something to do for the kids over the summer. "
From Nicole at Journey to Excellence — Summer Reading: A Time for Mom
"But what I will really be doing a lot of is reading MYSELF! I have a list of books I am wanting to read."
From Marcy C. at Ben and Me — Get Your Kids Reading with Summer Reading Programs
"There will likely be hot, humid days. There will likely be rainy days.  There will likely be some road trips/field trips/vacations that require time in the car. There's always bedtime reading, too. So don't forget to fill that book basket with books for summer reading. And if your kids need a little incentive, here are Ten Summer Reading Programs to inspire them!"
Enjoy your summer reading!
And check back next week when we'll fill you in on lots of great options for Summer Field Trips!