This article is in collaboration with All About Learning Press.
All About Reading is a multi-sensory learning experience for students.  Building upon the concepts of Phonological Awareness, Phonics and Decoding, Fluency, Vocabulary, and Comprehension, students learn to read in a fun and interactive way.
After the success of the All About Reading Pre-Reader Program (which the TOS Homeschool Crew reviewed last year), Level 1 has now been released and ready to guide young students on the path to reading.
The Level 1 Kit includes:
1. Teacher's Manual
2. Student Packet (includes Activity Book)
3. Run, Bug, Run! reader
4. The Runt Pig reader
5. Cobweb the Cat reader
Also, either a Basic or Deluxe Reading Kit can be ordered to enhance the Level 1 reading program.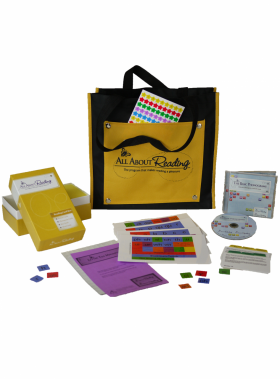 The Deluxe Reading Interactive Kit includes the same items as the Basic Reading Interactive Kit:
1.  Letter Tiles
2.  Magnets for the Letter Tiles
3.  The Basic Phonograms CD-ROM
4.  Reading Divider Cards
and three additional items:
1.  Reading Review Box
2.  Reading Tote Bag
3.  Star Stickers
All About Learning Press is a company which stands behind their products, with the following guarantee:
"You'll get our "Go Ahead and Use It" one-year guarantee. You have one full year to try out our programs. If you find that any of the curriculums do not meet your needs, simply return the materials at any time within one year of purchase for a full refund of your purchase price, no questions asked.
In addition, you'll get lifetime support. If you ever have a question, we're here to help!"
With other reading levels in development and a comprehensive spelling program already created, All About Learning Press' products are worth a look into.
Powered by Linky Tools
To view the list of reviews, or for Crew Members to enter your links, please Click here.
A big Thank You to Amber Hockman of The Fantastic Five for writing this introductory article.