Having trouble teaching the multiplication facts to your children? What about basic housecleaning – have you been looking for a way to get your children involved but just don't know where to start? Then, look no further than Trigger Memory Systems – they have JUST what you need!
Each member of the Homeschool Crew will be receiving a set of Times Tales for review, as well as the 3 Clean 'n Flip Charts….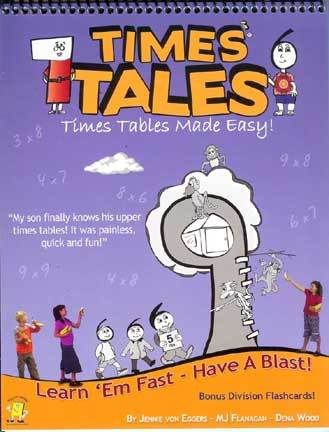 Times Tales is a creative, innovative mnemonic-based program that makes it fun and easy to memorize the upper multiplication facts. Times Tales uses cute, simple stories to provide students with a "memory peg", allowing them to quickly recall otherwise abstract facts.
– Covers the most difficult to memorize times tables: 3×6,3×7,3×8,3×9,4×6,4×7,4×8,4×9,6×6,6×7,6×8,6×9,
7×7,7×8,7×9,8×8,8×9,9×9
– FAST – most children learn in two 45 minute sessions!
– Non-consumable – can be used by the whole family.
– FUN – kids love this learning method and ask for more!
The Clean 'n Flip charts are wonderful tools for teaching your children basic cleaning habits. They are available in 3 versions:
– Zone Cleaning which focuses on Living Room/Entry, Kitchen, and Bathroom
– Bedroom Cleaning which, obviously, focuses on the bedroom, and
– Laundry which teaches children, step-by-step, how to do the laundry on their own.
Kristin N says: It's really a fun & easy chore system my kids love!

Tajuana says: If you are having difficulty teaching your child their multiplication facts, this may be what you're looking for. It's even good for teaching kids with learning disabilities.

Gina M says: I must say that these are some of the best parenting tools on the market! They truly work and even make the work fun for kids
Be sure to come back and read the Crew's reviews of these wonderful and helpful products. In the meantime, for more information, see the Trigger Memory Systems website.