My absolute worst subject in school was Chemistry!  I hated it.  Looking back, I realize it may have more to do with the fact that my teacher taught directly from the book without a lot of hands-on instruction. But, whatever the case, I didn't enjoy Chemistry and I got a bad grade in it (that was a tough pill to swallow for a perfectionistic student used to breezing through most other subjects).
Twenty years later and I'm a homeschool mom thinking about next year when my daughter should probably take Chemistry. And, I'm dreading it…..
So, I was just thrilled to hear that there is a vendor "on board" with the Homeschool Crew called Friendly Chemistry.  To me, those two words don't belong together – they're an oxymoron.  Can teaching AND learning Chemistry actually be a "friendly" experience? I don't know!  But, I'm sure going to find out – along with several other members of the Homeschool Crew who also have high school aged children.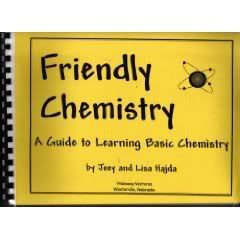 If the concept of Friendly Chemistry intrigues you and you'd like to learn more, be sure to check back here and find out what the Crew has to say: