This article is in collaboration with Middlebury Interactive Languages.
Bienvenido! Bienvenue! Willkommen! 欢迎 Huānyíng! Welcome!
For the past six weeks the Homeschool Review Crew have been learning one of four languages for today's review. Middlebury Interactive Languages embraces the principles of language immersion for learning language and culture, Middlebury Interactive Languages offers world language curriculums online for grades K-12. Developed by academic and linguistic experts, these courses employ real-world reading, writing, listening, and speaking activities to help the student truly learn the language.
Middlebury offers four different world languages:
Each of these are offered at the Elementary, Middle School, and High School levels. Through cultural stories, images, activities, and more, the student is immersed into the language.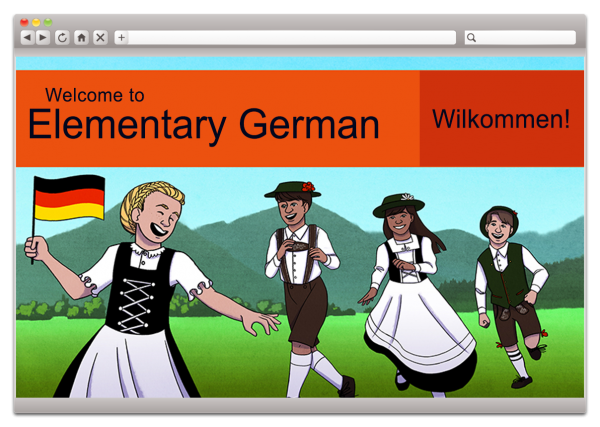 Elementary Level:
All four languages are offered at the elementary level, though there is only one level of German. Each unit focuses on a cultural story, myth or legend. At the elementary level, the courses are designed mainly for growing vocabulary. Because the units are designed for the younger students, the tasks are age appropriate and guide the students to greater understanding of the language and culture through song, story, audio, video and speaking. At this level, all courses are offered either with or without teacher support from Middlebury.
Middle School:
Middlebury offers two levels of each of the four world language courses at the Middle School level. Students will engage with lessons through fun and interactive activities in each of the four key areas: listening, speaking, reading and writing. With each unit covering a new theme and grammar concept, the activities guide the students to gain vocabulary and conversational skills while learning about the cultural practices and perspectives of the countries that speak the language. All courses at this level are offered with or without teacher support from Middlebury.
High School:
Middlebury offers a variety of options at the high school level, including two AP options. Most courses are still offered with the option of having teacher support from Middlebury and the AP courses require it. The courses offer a traditional route focused on grammar, writing, listening, and reading, or a fluency route that is based more on vocabulary acquisition and cultural understanding. Either route offers challenging coursework for the high school student.
Middlebury Interactive Languages
If you are looking for a self-paced language course that approaches learning authentically, this company has what you want. Filled with audio, video, and imagery, these courses truly immerse you into the culture of the language as much as can be done without actually moving. And with the rich variety of activities the student engages with online, the parent does not have to speak the language for the student to succeed. No prior knowledge necessary.
To find out more about Middlebury, visit them on Twitter and Pinterest.

—oOo—
A big thank you to Lori Hooten of At Home: where life happens for writing this introduction post.