This article is in collaboration with Zeezok Publishing.
Don't just introduce your children to music theory, help them develop a love of classical music by introducing them to the sounds and biographies of seven composers paired with hands-on activities. Listen to several selections from each of the seven composers as you read about and get to know each one. Follow up with a workbook, a lap-book and hands-on activities that seem to bring the composer to life right there in your home classroom.
The Homeschool Review Crew has been reviewing  Music Appreciation: Book 1 for the Elementary Grades from Zeezok Publishing LLC.
The program meets and exceeds all of the national standards required for music appreciation for K-6 Grades. The set includes a full four weeks of studies for each of the seven different composers that date from 1685 to 1828:
Bach
Handel
Haydn
Mozart
Beethoven
Paganini
Schubert
The biographies cover intriguing and true insights from each composer's childhood through adulthood. Each composer's biography also includes illustrations and written music.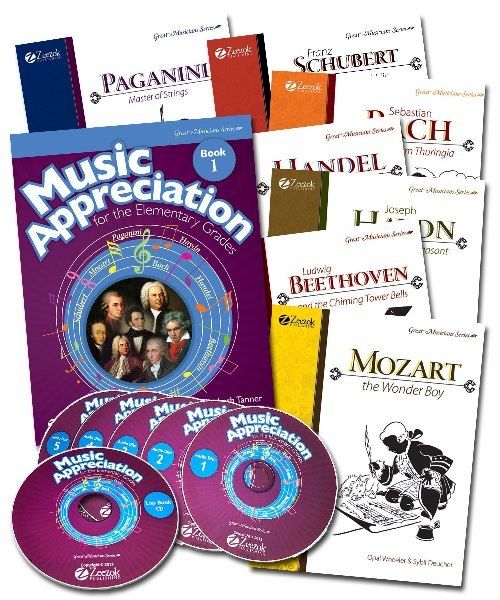 The Music Appreciation Book 1 Collection comes with:
All Seven Composer Biographies
A Student Activity Book
Music Discs
Lapbook Downloads that correspond with each composer
The activity book is user-friendly and can be used for multi-age groups. It enriches the reading as a learning experience to make the biographies come to life. It is designed for every learning style from auditory, visual, and kinesthetic active learners. It offers a selection of hands-on activities that incorporates activities from across the curriculum, pulling in lessons from history, timelines, geography, instrument studies, music vocabulary, musical facts of the Classical period, character trait studies, handwriting, and even recipes from the time periods.
Find Zeezok on Social Media:
—oOo—
A big thank you to Tere Scott of Puddle Jumping for writing this introductory article