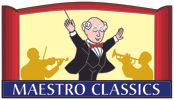 This article is in collaboration with Maestro Classics.
Have you found a wonderful way to teach classical music to your children yet?
If not…let the Crew introduce you to Maestro Classics! This award-winning company has been producing fun and exciting symphonies and musical stories especially for children. Each symphony or rendition is performed by the London Philharmonic Orchestra, and available on CD or MP3.
Each CD contains: the orchestra's performances, a creative narration of the symphony or story, so that listeners know just what the composers meant when they designed each musical movement. Maestro Classics includes a 24-page storybook along with each CD. The storybooks are beautifully illustrated and filled with story, activities and musical teaching that are just right for children. There are also additional musical performances that are part of the listening experience.
Maestro Classics creators, music director Stephen Simon and executive director Bonnie Ward Simon, have designed a classical music program that is both educational and enjoyable for families. And, it's just right for homeschoolers as well!
Crew members received either Prokofiev's Peter and the Wolf (the story of a boy's forbidden trip into the woods, culminating in a meeting with a wolf) or Tchaikovsky's The Nutcracker (the joyous retelling of a little girl's adventures with the Mouse King, the Nutcracker, and a magical kingdom) , to listen to and enjoy.
Connect with Maestro Classics
Facebook: https://www.facebook.com/MaestroClassics
Twitter: https://twitter.com/MaestroClassics
Pinterest: https://www.pinterest.com/maestroclassics/
YouTube: https://www.youtube.com/user/maestroclassics
—oOo—
A big thank you to Wren of finchnwren for writing this introductory article.