Leadership Garden Legacy was created by Debra Slover, out of her passionate desire to grow the leader in all of us. A "Leadership Garden" is a "fun metaphor for growing leadership", much like you would grow plants and vegetables in your own garden. Leadership Garden Legacy has resources for individual, family, school, community and business leadership. For this review, crew members got to sample the U.N.I.Q.U.E Kids: Growing My Leadership Garden Program and U.N.I.Q.U.E:Growing the Leader Within.
U.N.I.Q.U.E Kids is a leadership development book written for kids ages 8-12. The colorful book tells the story of a sheep named Hugh who has spent time lost and wandering due to negative experiences that resulted in low self-esteem. Hugh wanders into the Leadership Garden and meets the farmers and animals who help him learn how to grow and tend his Leadership Garden. In addition to the book, which has discussion questions after each chapter, you can use the U.N.I.Q.U.E Kids Activity Guide and Journal to go along with it. This guide includes other activities to help children understand and apply the lessons of the book. You can also purchase an MP3 audio download of the book as well. The U.N.I.Q.U.E. Kids book costs $18.95, the PDF download of the activity guide costs $8.95, and the MP3 audio download is $8.95 as well.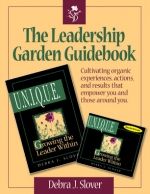 The U.N.I.Q.U.E. Growing the Leader Within book is to be used with adults or older students. It still tells the story of Hugh and his experience in the Leadership Garden, but it is not in color, and it includes commentary and reflections from the author about her own personal experiences with leadership. There are activities at the end of the chapter to apply and think about. The Leadership Garden Guidebook is meant to accompany this book and includes step by step exercises you can use to cultivate leadership in your own life, or that of your older student. This book also includes an MP3 audio download. The Growing the Leader Within paperback costs $18.95, the guidebook also costs $18.95, and the MP3 download is $14.95.
Leadership Garden Legacy is offering the TOS Community a "Spring Special Discount" of 20% on all their Empowerment Tools. This is in addition to their already discounted Tool Kit bundles.
To receive your discount, enter the discount code: TOS-SS20D upon checkout. This is a limited time offer and the code will expire on May 31, 2013.
Preview the bundled Tool Kit Discount options at:
http://www.leadershipgardenlegacy.com/catalog/tool-bundle
Preview all product tools at:
http://www.leadershipgardenlegacy.com/store
Visit the Leadership Garden Legacy to learn more at:
http://www.leadershipgardenlegacy.com
With the bundle price of the Family Empowerment Tool Kit and the TOS extra 20% discount this is a $28.70 TOS savings off the retail price of the products.
A big thank you to Brandy of Kingdom Academy Homeschool for writing this introductory post.