This article is in collaboration with Griddly Games.
Crew members received one of two games from Griddly Games, Wise Alec Nature Nuts or Wise Alec Civilize This. These games can be used as either travel games or as expansion sets for the award winning Wise Alec trivia game.

Nature Nuts tests players' knowledge about animals, plants, and the Earth. Each card includes questions of two different difficulty levels, making it ideal for family play. Wise Alec cards add a fun twist by having players do exercises, tongue twisters, or brain teasers.

The 300 questions in the Wise Alec Civilize This game quiz players' knowledge of Ancient, Medieval, and Modern cultures. This game also includes two different levels of questions and Wise Alec activity cards.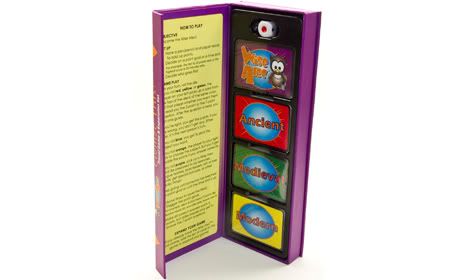 Both games are for 2-4 players ages 8 and up and include four decks of cards and one multi-colored die.
Powered by Linky Tools
For visitors to view the list of reviews, and for Crew Members to enter your links, please CLICK HERE to enter your link and view this Linky Tools list…
Special thanks to Crew Member Debbie from Debbie's Homeschool Corner for writing this article.