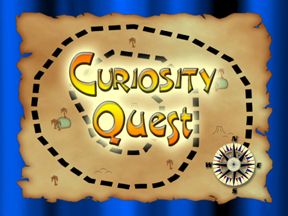 Curiosity Quest is a fun educational program for the entire family that explores those things its viewers are curious about. In each show, host Joel Greene ventures on a quest to answer viewer's letters of curiosity.  Each curiosity quest takes the audience on location for an unscripted, hands-on, educational experience.
Members of the Crew were sent 2 DVD Combo Packs, each containing 3 episodes.

In the DVD Combo Pack: Swimmers of the Sea, viewers are given a glimpse of salmons, sea turtles, and penguins.

In the DVD Combo Pack: Produce, viewers are taken on a journey to learn about mushrooms, orange packing, and cranberries.
There are many other episodes available highlighting a variety of subjects such as food, animals, sports, and instruments.  Each episode is 30 minutes in length and shares interesting and relatively unknown facts that your whole curious family will enjoy learning about.
Curiosity Quest is also available on many local PBS channels airing over 100 episodes.
You can visit and learn more about Curiosity Quest by visiting them on Facebook, Twitter, and YouTube.
Click on the banner below to read the Crew Reviews!
A big thank you to Erin S. of  For Him and My Family for writing this introductory post.