Do you ever feel like media has taken over your life and the lives of your family? You are not alone. While there are many benefits to using different types of media, it also leads many parents to wonder "How much is too much?". At Media Talk 101 Phillip Telfer explores that question. In his documentary, Captivated DVD, he takes a hard look at television, computers, gaming, cell phones, and social media websites and the effects they have on us and our children.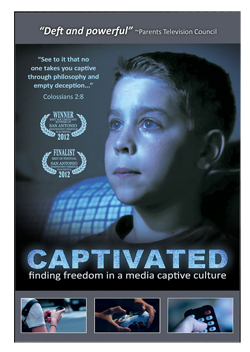 One of the biggest issues in parenting is protecting our children, not just physically, but mentally and emotionally as well. With interviews featuring doctors, experts, and people who have overcome their own media addictions, Captivated looks at media from a Biblical perspective and seeks to encourage others to examine their own lives and relationship with various forms of media.
Captivated has won several awards, including the Best Documentary Runner Up at the 2012 San Antonio Independent Film Festival and 2013 Best Documentary at the GloryReelz Christian Film Festival. Learn more about the DVD at the Captivated Facebook page.
Click on the banner below to read the Crew Reviews!
A big thank you to Brandy of Kingdom Academy Homeschool for writing this introductory post.