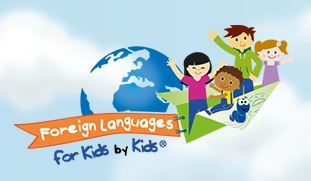 Hola! The Review Crew have been reviewing Foreign Languages for Kids by Kids which is a fun, immersive foreign language program using day to day life situations to help teach kids a foreign language the same way they learn their native language. Using the method of immersion, Foreign Languages for Kids by Kids shows real kids speaking Spanish in a real life setting.
The Review Crew received the Spanish program Starter Set 1 to review. Developed by homeschooling mom and lawyer, Kit Strauss, this set includes:
A 20 week curriculum guide.
DVD that features the first 3 videos-"Basketballs Aren't for Breakfast," and "Little Magic House" parts 1 and 2.
Workbooks for each video
Sticker
Flashcard set to correspond with each video
For a Limited time, the game "Go Squish" is also included
Kit Strauss developed the award winning program Foreign Languages for Kids by Kids in 2011 when she became frustrated by her inability to find educational products to teach her own children a foreign language. She noted kids have a much easier process of learning when exposed to foreign languages from an early age, and in a fun and immersive manner. This is exactly what Foreign Languages for Kids by Kids does.
Now, your family can share the benefits of this program that uses humor and real life to help your child learn a new language.
Connect with Foreign Languages for Kids by Kids on Facebook.
A big thank you to Missica at Through the Open Window for writing this introductory post.