This article is in collaboration with Barchowsky Fluent Handwriting.
Barchowsky Fluent Handwriting is now offering a downloadable app available through iTunes.  Several of our reviewers recently had the chance to review Letters Make Words for the iPad.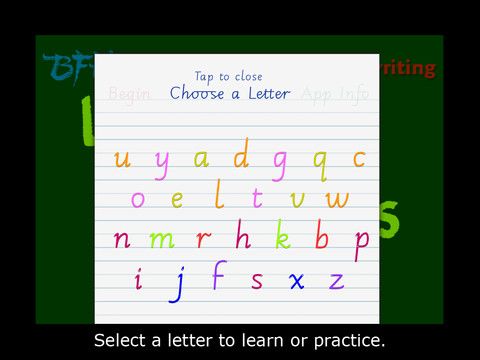 This app is designed to teach handwriting with phonics.  Designed by a Handwriting Specialist and an Early Childhood Specialist, Letters Make Words proposes to help beginning writers develop good handwriting habits while learning basic phonemes. 
How it works:  The first screen asks the child/teacher to choose a letter to learn or practice.  A friendly female voice instructs the child to trace the letter patterns with his/her "writing finger".  After successfully tracing the letter, the child is directed to trace a word on the next screen.  As the child is tracing, he is hearing the sounds of the selected letter.  The words traced will contain the sound of the letter traced on the previous screen.  After the child traces a single word, he is instructed to trace three words, and then he is given a sentence to copy with paper and pencil.
See what Crew members had to say about this app by clicking on the link below:
Powered by Linky Tools
Click here to enter your link and view this Linky Tools list…
Thanks to Tara from This Sweet Life of Mine for writing this article.