This article is in collaboration with ArtAchieve.
Can anyone teach art lessons to kids?  Are you comfortable teaching drawing and painting? ArtAchieve makes it easy! This program is perfect for students and teachers who do not have a background that enables them to teach art classes. ArtAchieve makes the learning exciting!
'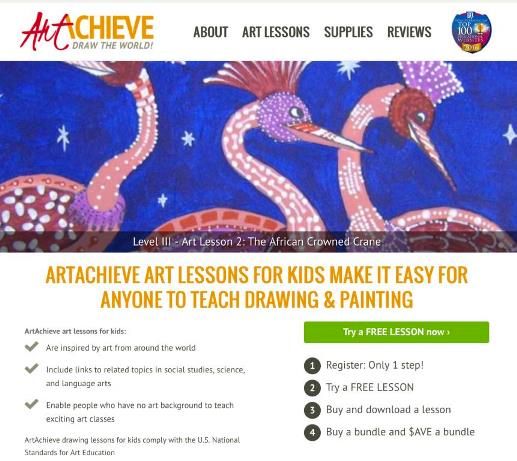 The Crew used three of the five levels of lessons. Each level is inspired by art from around the world. Lessons are linked to related topics in Social Studies, Science and Language Arts, making it easy to incorporate into daily lessons. This helps teachers comply with U.S. National Standards for Art Education.
A goal of their program is to provide you and your students with an approach to drawing that insures success (e.g, the cat you draw will LOOK like a cat), while leaving plenty of room for creative interpretation (the cat you draw will be YOUR OWN unique cat).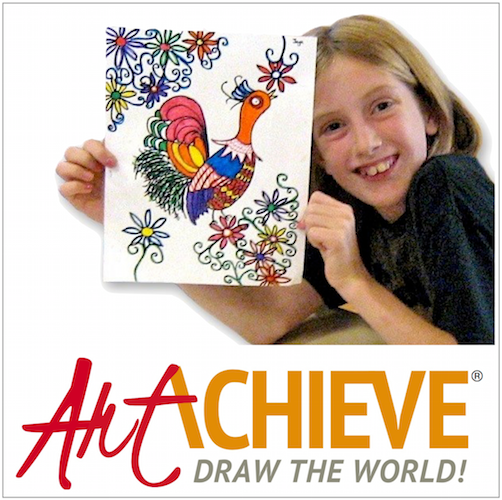 Each lesson is suited for any age. If you have never had art or drawing classes, you will start on Lesson 1 of Level 1 and continue on from there.
John Hofland provides a PDF of the lesson, and leads the Video. He and his wife homeschooled their children, and understands the home environment. He also teaches elementary and middle school aged students and knows how to adapt the method to fit the needs of the individual. He led workshops for teachers throughout his career at the university.  The result of his life work is  ArtAchieve.
Their family has traveled to over thirty countries and each ArtAchieve lesson begins with a unique image collected during these travels. His background in the schools allows him to tie to geography, history, literature, and other topics.  Their desire is that the subjects of the lessons become a window that helps students make a visual connection between what they draw and what they study in social studies, literature, science, and other subjects.
Social Media Links:
Facebook: https://www.facebook.com/Artachieve
Twitter: https://www.twitter.com/artchieve  @artachieve
Pinterest: https://www.pinterest.com/artachieve/
Instagram: https://www.instagram.com/johnahofland/
—oOo—
A big thank you to Angie Wright of Pebblekeeper for writing this introductory post.