This article is in collaboration with Academic Success for all LEarners.
Academic Success for all Learners is a company that grew out of extensive research conducted at Utah State University. Perhaps the best known of their products is their Little Books — 141 colored coded readers. There are 8 sets of books from Kindergarten to a third grade reading level. Each story includes comprehension questions to use. They include inferential and evaluative questions as well as basic literal ones.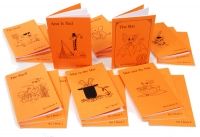 For review purposes, crew members completed the Academic Success assessment and chose two sets of Little Books to use with their young readers. The beginning readers started with the Set 1 (red) books. Each page had a large illustration and only a few words. In fact, the first book only teaches four sounds and three words — I see Sam. Those words are combined with the pictures to make an enjoyable fourteen page story.
The Set 8 books are written at a third grade level. The new words for one of those books include: lie, difficult, hungrier, sharply, scolding, believe, dream, and sight. You can see a sample page from a Set 8 book on the right.
The sets vary in terms of number of books per set and number of stories per book. The Set 1 books have 26 books with 1 story per book. Each story has 20-100 words. By Set 4, each of the fourteen books has two stories that are approximately 200-400 words long. In Set 8, there are fifty stories with 700-1000 words each. You can see the specific skills covered at each level in the downloadable Scope and Sequence chart.
Powered by Linky Tools
To view the list of reviews, or for Crew Members to enter your links, please Click here.
A big thank you to Cristi of Through the Calm and Through the Storm for writing this article.