This article is in collaboration with We Choose Virtues.
We Choose Virtues provides Character Education Curriculum for "Simply Inspiring Character That Lasts"! Heather McMillan created We Choose Virtues in response to the lack of self control, honesty, and perseverance she saw in the children she came in contact with as a preschool teacher and children's pastor.
Our TOS Homeschool Crew Mates received the Virtue Clues Cards, The Teacher's Handbook, Kids of Virtueville Coloring Book, as well as free downloads from their website: Family Character Assessment, and Kids Memory Verses, Bible Heroes & Truths. Characters with catchy names, such as Stop Sign Madeline (I am Self-Controlled), teach children about 12 virtues: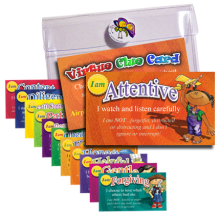 Attentive
Content
Diligent
Forgiving
Gentle
Helpful
Honest
Kind
Obedient
Patient
Perseverant
Self-Controlled.
The We Choose Virtues products the Crew received are designed for use with children in early childhood through elementary age, but We Choose Virtues also has products for youth up to age 18. Products are available individually or in kits for home, homeschool, children's church/youth group, or the classroom. The Virtue Clue Cards are on sale for just $7.95 each, and they come in a handy dandy, take-everywhere pouch. The coloring book is a pdf download and includes each of the Virtueville Characters. The Homeschool Kit includes flash cards, Kids Virtue poster, three Kids of Virtueville mini-posters, parenting cards, 25 sheet pad of Virtue User Review, 16 sheet pad of Personal Virtue Charts, The Three Rules poster, and Handbook and Coloring Book downloads all for $99.99. See the We Choose Virtues website for a full listing of all their products and pricing.
Be sure to visit We Choose Virtues on Facebook. And don't forget to click on the Linky Tools link below to check out what our crew members thought about We Choose Virtues in their homeschools!
Powered by Linky Tools
To view the list of reviews, or for Crew Members to enter your links, please Click here.