This article is in collaboration with The Vocal Coach.
The Vocal Coach, with Chris and Carole Beatty, is a collection of singing products available to be used in a home setting. Chris and Carole have been teaching singing for over 40 years.  In addition to their wonderful products, they offer private vocal coaching and vocal seminars.  They are passionate about teaching people to sing.  The Homeschool Review Crew has been privileged to try two of the Beatty's products,  'Teaching Kids to Sing' and 'Vocal Coach Singer.'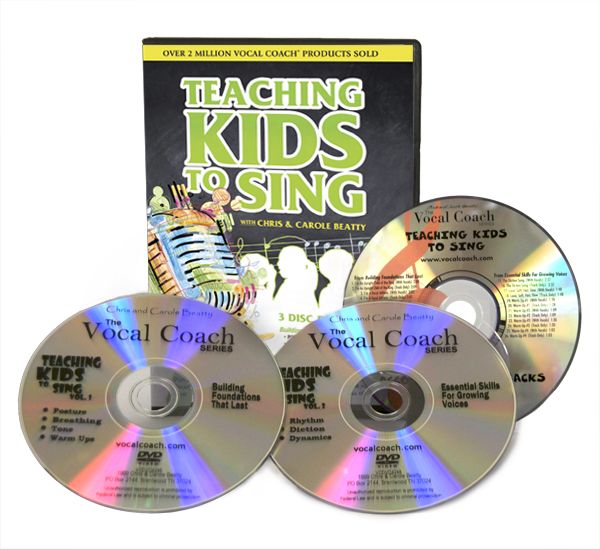 'Teaching Kids to Sing' is 2 DVD / 1 CD set, geared towards kids ages 5-13, which teaches kids the basics about their voice.  Kids study posture, breathing, tone, rhythm, and diction, among many other topics. Kids are taught through the DVD's containing a cast including Chris and Carole Beatty and multiple children age 5-13.  The CD contains all of the music that is on the DVD's in two formats:  vocals and music tracks together and music tracks only.  This gives kids a way to practice and hear themselves.
Vocal Coach Singer is available in either CD or mp3 format.  The CD format contains 12 CD's and an instructional guidebook.  One of the CD's contains printable lead sheets for all of the vocal exercise as well as a personal, printable singer's journal. The mp3 version contains all of the materials included in the CD version, but in a downloadable format.  It can easily be downloaded and transferred to a portable device like an iPod to be used on the go.  'Vocal Coach Singer' is intended to be used with older students and adults.
"Vocal Coach Singer is the most complete instructional singing system available with the equivalent of over $2,000 worth of personal coaching time. Whether you are a beginner or a professional, Vocal Coach Singer teaches and builds upon the fundamentals essential to an accomplished singing voice. From posture to performance our tested and proven techniques will help you deliver your songs with consistency and confidence!"
Our crew members have been using both of these products for the past several weeks.  To read their reviews, click on the banner below.
A big thank you to Sarah Dugger of Ahoy Maties! for writing this introductory article.