VocabularySpellingCity.com is an interactive online learning experience for grades K-12, with both free and premium memberships.
The Schoolhouse Crew has had the opportunity to review the Premium Membership level, which includes:
Vocabulary, writing, spelling, and language arts activities
Access to ALL games and interactive Flash Cards
Student progress tracking
Automated testing and grading
Personalized learning with assignments for differentiated instruction
Student logins with no commercial ads
You can learn more about the features by watching the videos on this page.
Kids learn through fun games like HangMouse, Word Scramble, Complete the Sentence, Letter Fall, Flash Cards, and more. Parents can set up individualized spelling and vocabulary lists, set assignments, and track progress through the Parent Log-in section. There are even pre-set word lists by grade level, season, holidays, alphabetical, and so on to make lesson planning simple.
They now offer free apps for iPhone/iPad/iPod, Android, and even Kindle so VocabularySpellingCity.com can be accessed anytime, anywhere.
A family premium membership is $29.99 for up to 5 students for a year.
Click on the banner below to read the Crew Reviews.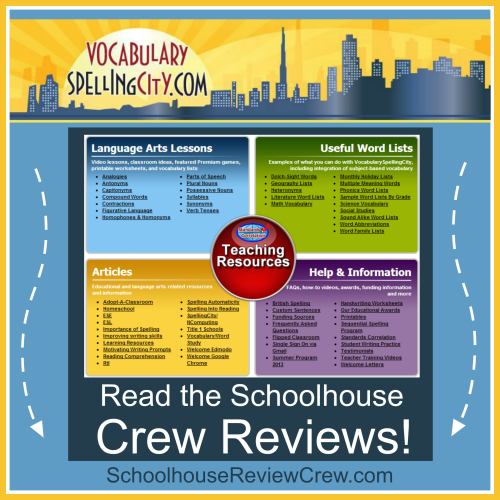 A big thank you to Sara of Embracing Destiny for writing this introductory post.