This article is in collaboration with TruthQuest History.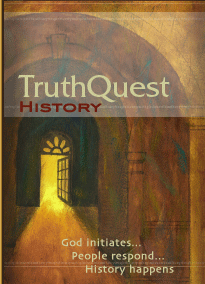 TruthQuest History is a deep and rich literature-based history study…but with a difference. You will not learn the story of mankind; you will learn the lovestory of mankind. You will not focus on the rise and fall of human civilizations; you will focus on the arrow-straight line of God's unchanging existence, power, love, truth, and plan for civilization. You will not simply 'meet the culture' or 'get the facts;' you will probe the truths of history so deeply that your students will be equipped to change their world!
Each chronological guide presents topics for study with commentaries setting the stage for both student and teacher.  The Big 2 Beliefs (Who is God, and who, then, is mankind?) are continually being brought to the forefront as the student starts to connect the people, events, and culture of a civilization with those beliefs.  There are also suggested reading lists to help with picking the best resources for learning. ThinkWrite™ exercises placed in different spots of the overall study will help your students internalize and express the deepest lessons of history.
In the end, your children should realize the only source of freedom is God's laws, and the only source of human worth is God's love for us.
TruthQuest History has eight chronological guides for World History (Creation through 2000) that can be used up through high school studies.  There is also an American History track for the younger grades (1 – 5) that cover exploration through 2000 in 3 chronological guides.  All of the guides are available in either print or pdf format with prices ranging from $24.95 to $34.95 (for print) or $19.95 to $29.95 (for pdf.)   You can also purchase supplemental lapbooks created specifically for many of the TruthQuest guides.
Crew members received a guide of their choice, and all eleven guides are being reviewed.
Powered by Linky Tools
To view the list of reviews, or for Crew Members to enter your links, please Click here.
A big Thank You to Laura of Day by Day in Our World for writing this introductory article!