This article is in collaboration with Time4Writing.
Time4Writing provides online one-on-one writing courses that are taught by certified teachers. The 8-week long courses are available for elementary through high school level students.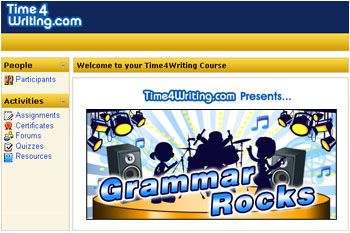 Within the elementary, middle and high school grade level groupings, there are courses which are at a basic, intermediate, and advanced level. Time4Writing provides a course placement tool which helps you as the parent decide which course is best for your child. Each course costs $99 and your child has access to it on their own schedule within the 8-week time period.
After signing up for a Time4Writing course, your child completes their work online through an easy to use interface and submits their completed assignments to an assigned teacher who then grades and provides feedback through your child's online account. You and your child can send messages to your assigned teacher in order to ask questions about assignments or to discuss progress. As a parent, you will receive mid-course and end of course reports. At the successful completion of the course, your student will receive a completion certificate.
The Time4Writing.com website also has many resources available in addition to the courses themselves. You can view free writing tips from their Time4Writing.com website.
With Time4Writing, you receive a 100% satisfaction guarantee. If you are not satisfied for any reason, you can either select another course or cancel your membership during the first 14 days.
Several of our Schoolhouse Review Crew Members received access to one of the many writing courses available from Time4Writing.com. Follow the link below to read what each of them had to say about the various writing courses they received to review.
A big thank you to Barbara of Alive In Spirit for writing this introductory article.