One 2 Believe
has shipped to the Crew again! This is exciting because our Crew has been very busy this year, reviewing lots and lots of great curriculum and sharing those reviews with you. But, sometimes the kids just need a break! I know my children were thrilled when we got home from our vacation a few weeks ago and found the
Noah's Ark
from One 2 Believe waiting for us. Learning is wonderful, and we've certainly learned a lot this year. But, for the little ones, play is equally important – and much can be learned during playtime as well.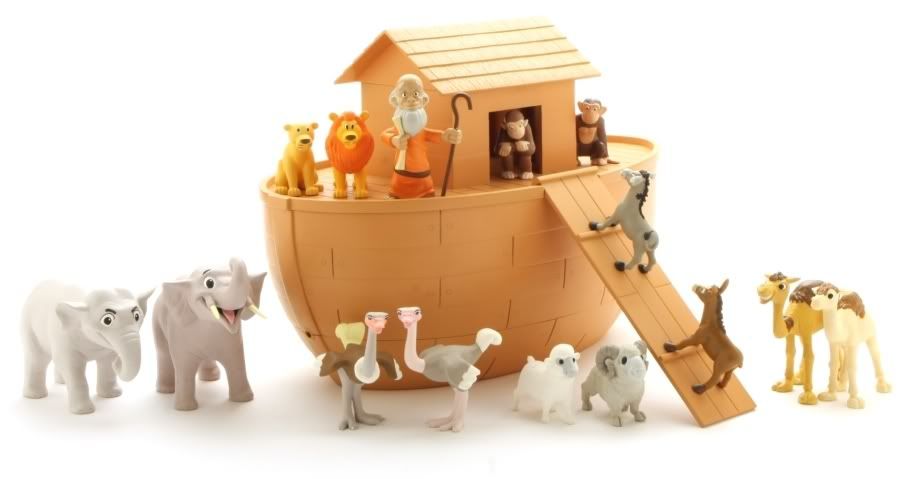 This
Noah's Ark play set
is a great way to reinforce the Noah's Ark story. Kids remember better when they have something to visualize, and what better than a play set that they can handle on their own. This set is part of the Tales of Glory collection and contains a Noah figurine, 14 animals, and an ark large enough to hold everything inside. Oh, and the best part — it floats! So it will double as a tub toy or work great at a water play table.
Meredith says: "

Needless to say, when the Ark and its menagerie of animals showed up on our doorstep, my children were ecstatic. We tore open the box and relived the story once again. Love it!"
Jean says:

"This set was a resounding success! Made of sturdy plastic, the Ark and its occupants received an immediate bathtub test. It floats!"
Heather says:

"I love that the ark opens and you can fit all of the items inside. This makes for fun and easy clean up."
The rest of our Crew will be sharing their reviews of the Noah's Ark set here: