This article is in collaboration with Homeschool Legacy.
Take a detour with the Homeschool Review Crew and in your homeschool curriculum and dive into some focused history subjects with Homeschool Legacy and their Once-a-Week Unit Studies and Once-a-Week Micro-Studies. Maybe you've been interested in Unit Studies but want don't want to make them your whole homeschool curriculum? Or maybe you just want to dip your toe in and get a feel for what Unit Studies are all about. Either way Homeschool Legacy has some Once-a-Week Unit studies that you can slip right in to your homeschool schedule today!
Geared towards grades 2nd through 12th Homeschool Legacy's Once-a-Week-Unit Studies require no prep work and are designed to be used once a week. Their Once-a-Week-Micro-Studies are geared towards grades 1 through 8 and provide in depth study on various subjects in only 30 minutes, 3 times a week.
Both unit studies are made to be used by the whole family and include a suggested family read-aloud.
Our Homeschool Review Crew recently spent some weeks digging in and test driving the following Unit Studies from Homeschool Legacy for their latest review
Once-a-Week Unit Studies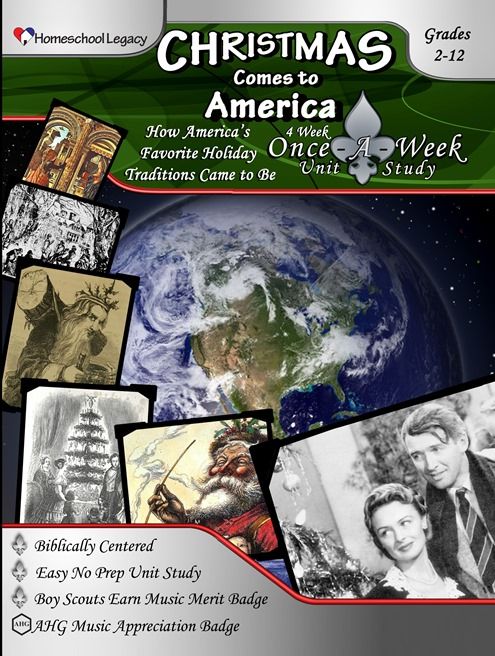 Christmas Comes to America This study can be used from grades 1 – 12 and as you celebrate, your children will learn about the Dutch, German, and English settlers who first shared those traditions with the New World.
Once-a-Week Micro-Studies:
Once-a-Week Micro-Studies (Grades 1-8) offer the same great quality you have come to expect from Once-a-Week Unit Studies, but provide your children with a thorough understanding of the study topics in only three, 30-minute assignments each week!
The Once-a-Week Unit Study is available in paperback form or as a digital download and the Once-a-Week Micro-Studies are available as a digital download.
—oOo—
Thank you to Kemi Quinn from Homemaking Organized for writing this introduction article.