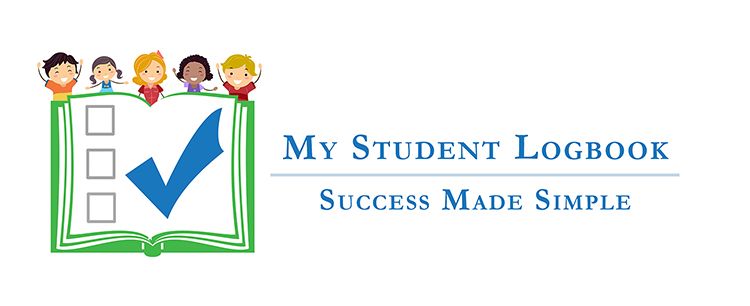 This article is in collaboration with My Student Logbook.
Whether you are homeschooling one student, or twelve, organization is key. Organization is one of the biggest challenges most homeschoolers face; between planning out your student's days and keeping track of what is accomplished, it can seem like the paperwork never ends.
Most homeschooling moms and dads are looking for a simplified way for their students to keep daily records. What if there was an easy, almost "automatic" way to do it? That's the goal of My Student Logbook, an innovative student planner designed with ease-of-use in mind.
Once this system is set up, it is as easy to run as writing a check mark. Plus, the set up is super simple too!
Corina Abbott, the creator of The Student Logbook, has even dedicated an entire page to showing parents how they can use this daily logbook to create a high school transcript!
Set-up is simple and takes just a few minutes. Attach a new checklist, and decide what tasks to include on your child's list. (While it's intended for schoolwork, any repetitive daily task can be included.) All tasks are listed down the left-hand side. The remainder of the page includes seven columns (one for each day of the week) that can be merely checked off, or used to record grades.
The checklist sheet is actually folded over to enable the same list to be used week after week, if necessary. Parents simply write out the school lessons, or even the child's chores list for the week, then the student only needs to check off the lessons as he/she completes them.
My Student Logbook is available in three different calendar options: dated chronological year, dated school year, or undated blank. It has a complete year's worth of pages with a spot for all seven days of the week.  Extra sheets are included in the back of the book for the student to keep track of other valuable information.
Features include:
1 – Colored paper divider
1 – All About Me page
1 – Prayers and Goals page
1 – Bible Verses Memorized page
3 – Books Read pages
3 – Events, Projects, Field Trips, Presentations, Activities pages
3 – Test Records pages
1 – Year Highlights: My Favorite Memories from this Year page
Students can choose from numerous covers that appeal to boys and girls of all ages. All Logbooks include a heavy black plastic back cover and black plastic spiral binding.
My Student Logbook is on Social Media too! Make sure you watch the videos for detailed, step-by-step directions on how to get started with the My Student Logbook.

Facebook: https://www.facebook.com/MyStudentLogbook
You Tube: https://www.youtube.com/channel/UCMxzpy91vov8a8nDpyp2ihQ
Click on the banner below to read the Crew Reviews!
A big thank you to Candy Foote of Candy Foote's Strategic Shopping and Shawna Bradley of Tenacity Divine for writing this introductory post.