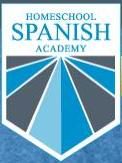 This article is in collaboration with Homeschool Spanish Academy.
Some members of the Schoolhouse Review Crew were recently able to try out the Homeschool Spanish Academy. Unlike most curricula available to homeschoolers, Homeschool Spanish Academy provides immersive, interactive 1-on-1 interaction with native Spanish language tutors via Skype video. All that is needed is a high-speed internet connection, web cam, and a Skype compatible computer headset with microphone.
After a quick phone call from Tech Support ensures that you are ready to go, you are ready to take a free trial lesson before you commit to signing up for a semester or half-semester class. During each lesson, the teacher calls the student on Skype and teaches the week's lesson with the help of pictures and written content that shows on the screen. Lessons proceed at the student's pace.
All lessons and homework are emailed to students in a PDF format, so no additional books are needed.
Homeschool Spanish Academy offers several  levels of instruction, from early learning (age 5 and up) to adult. The Early Learning sessions are 25 minutes long, while the Middle School, High School, and Adult sessions are 50 minutes. Prices range from $59.99 (7 week Early Learner course) to $314.99 for a full semester of 30 lessons in 15 weeks.
A big thank you to Debbie from Debbie's Homeschool Corner for writing this introductory article.