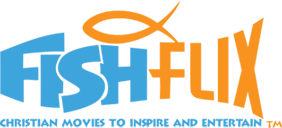 This article is in collaboration with FishFlix.com.
FishFlix.com is an online Christian video store. The site offers family friendly, Christian videos, including entertaining movies, documentaries, biographies, educational films, and more. If you are looking for DVDs and Blu-Rays that the whole family can enjoy, FishFlix.com has much to offer. The Crew recently had the opportunity to review a selection of five DVDs from FishFlix.com.
War Room: From the award-winning creators of Fireproof and Courageous, War Room is a War Room is a captivating drama with humor that shows how a life can be challenged and changed by prayer. Be inspired as you join Elizabeth and Miss Clara as they pray through marriages, parenting, careers and friendships.
Woodlawn:  In 1973, a spiritual awakening captured the heart of nearly every player of the Woodlawn High School Football team.  A gifted player must learn to embrace his ability and his faith as he battles racial tensions on and off the field in Woodlawn, a moving and inspirational new film based on the true story of how love and unity overcame hate and division in early 1970s Birmingham, Alabama.
Gospel of John: The best loved of the four Gospels, vividly comes to life in a faithful and powerful dramatization of the Biblical text. Visual Bible, The Gospel of John meticulously re-creates the era of Jesus during a tumultuous period that changed the course of history.

The Ultimate Gift: When his wealthy grandfather dies, Jason Stevens inherits his grandfather's crash course on life. The videotaped will of deceased billionaire Red Stevens (James Garner) includes the "ultimate gift" for his spoiled, sullen grandson Jason (Drew Fuller). A series of tasks meant to turn Jason from a hedonistic jerk into a compassionate human being is included in the will, but whether that's the gift or there's a fortune at the end of the rainbow is something Jason will just have to wait to find out.
My Son My Savior:   Who would know Jesus better than any other person during His lifetime? His own mother, who saw Him go from child to rabbi to sacrificial savior. Follow the life of Jesus through Mary's eyes as He minister's God's Good News and changes the future of humanity with His sacrifice on the cross.
Theo:  Theo Vol 1: God's Love is a fun collection of three Bible stories for children, each detailing a different aspect of God's great love for his people. Each lesson focuses on a topic that is entertaining as well as a teaching opportunity for young children. Theo Vol 1: God's Love contains three ten minute lessons for children, all focused on the importance of love.
Superbook: A Giant Adventure Superbook is an Emmy®-nominated animation series that brings the greatest stories of the Bible to life—from Genesis to Revelation.  Each episode teaches children timeless moral truths and life lessons through the captivating, Bible-based adventures of two time-traveling children and their robot friend.
Captive: In this gripping thriller, one struggling woman's story takes a dramatic turn—both for the worse, and the better, as she is kidnapped and held hostage by an escaped murderer with nothing to lose. Yet in the middle of her crisis, this captive woman finds that God doesn't just have a plan for her…but also for her captor.
Owlegories: The Ant, The Fruit, The Butterfly follows a group of student owls as they travel on adventures learning about nature, faith, and God. Each lesson focuses on an element of nature that helps teach children about the nature of God and the truths found in His Word.
Agenda 2: From the rise of Islam to the propaganda of climate change, from the deceit of Common Core to the manufactured economic crisis, and from the manipulation of the Evangelical Church to the unsustainable debt burden, it seemed as if America had a hundred different enemies with a hundred different agendas. But he knew from his research that wasn't the case.
FishFlix.com has a great variety of videos for family entertainment and education.
CONNECT WITH FISHFLIX.COM
Facebook
Twitter
Pinterest
YouTube
Read the reviews below for more on Crew members experiences with FishFlix.com's excellent videos!
A big thank you to Angie Wright of Pebblekeeper for writing this introductory article.