This article is in collaboration with Deep Blue Kids Bible.
What? A study Bible for children ages 7 – 12? Yes! The Deep Blue Kids Bible is just that. Using a Common English Bible translation, with over 120 Bible translators from 24 denominations, the Deep Blue Kids Bible helps children in grades 2 – 7 learn more about the Bible and practice their reading skills. According to the website, "Kids will dive deeper into God's Word and grow stronger in faith with this unique  children's Bible."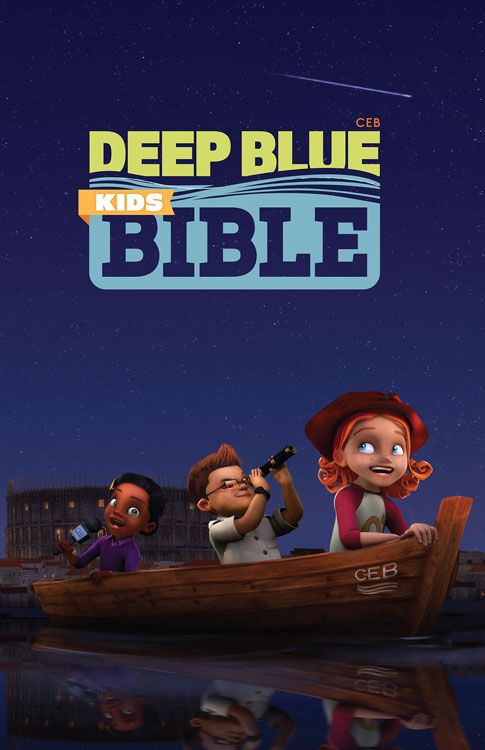 Conversational-style tone makes this an easy-to-understand translation. An introduction before each Bible book gives a synopsis of each of the 66 books, telling basic themes, introducing to each book's major people and places, and highlighting one particular Bible scripture to memorize from each book. Bible maps from National Geographic are at the back. If a child is feeling guilty or disappointed or various other feelings, visiting the I wonder what to do when I'm . . . section and looking up the specific texts may help. Discovery Central Dictionary defines many words for the reader.
Throughout the Deep Blue Kids Bible are colorful notes within the reading. Sailboat notes point out positive character traits, Umbrella sections help through the hard times, Lighthouse words teach ways of following God and the Life Preserver answers tough questions. Another feature, did you know?, shares Bible facts, customs, and practices. God's Thoughts/My Thoughts apply Bible learning to present day using a devotional thought. Questions make the learning practical to child's level. The Navigation Points present memory work. Timed Bet you can! challenges help student practice reading aloud or silently. An index of all these is located at the back of the Bible.
Two class books created to be used with the Deep Blue Kids Bible,
Learning to Use My Bible
Finding Your Way Through the Bible
help the student get to know his Bible better.
Abingdon Press publishes five kid-friendly cover choices available in the approximately 5.5" X 8.5" Bible:
ImageFlex with blue background and three children in a boat
Hardcover with same view as ImageFlex
Midnight Splash-dark blue background with light blue splash
White Splash-white background with more wavy splashes of different blues
Burgundy Imitation Leather
The Homeschool Review Crew reviewed the Image Flex cover Bible which retails at various retail outlets.
See a video introduction by visiting the Deep Blue Kids Bible website videos page.
A PDF sample is given at the Deep Blue Kids Bible website.
A big thank you to Kimberly Leui Kovach of Train Up a Child for writing this introductory article.