Did you know  Apologia Educational Ministries offers more than science texts to homeschool families?  Apologia Press offers resources to support and inspire parents and homeschool teachers.  One of these resources is an inspirational book by Rachael Carman.

Rachael has a heart for her kids and seeks to inspire others through her story.  She didn't always have a heart for her children and early in her parenting career she viewed them as a burden.  She takes you through her journey back to her children teaching you the lessons she learned along the way.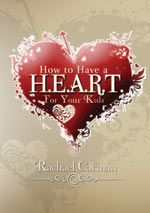 The foundation of Rachael's lessons are God, His word and the phrases she has assigned to each letter in the acronym H.E.A.R.T.  You will learn how to Have a heart for the things of God, Enrich your marriage, Accept your kids, Release them to God, and Teach them the truth.  Each chapter includes plenty of ideas to help you apply what you will learn and ends with a Heart Check-up.  The Heart Check-up contains questions to answer which will help you determine where you are in your journey towards having a heart for your kids.
Powered by Linky Tools
For visitors to view the list of reviews, and for Crew Members to enter your links, please CLICK HERE to enter your link and view this Linky Tools list…
Special thanks to Crew Member Briana from I Can't Decide for writing this article.