This article is in collaboration with Apologia Educational Ministries.
Apologia is a familiar name to most homeschoolers. They are known for both their science and worldview curriculums, all written from a Christian viewpoint. The book, I Don't Have Enough Faith to be an Atheist, is the latest product the Homeschool Review Crew had a chance to review. Written for use with high schoolers, it is designed to get students thinking about WHY they believe what they do, and how to clearly explain and defend those beliefs to others.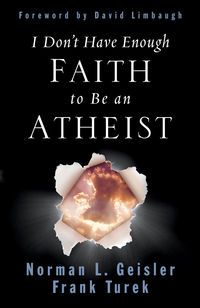 The authors, Norman Geisler and Frank Turek, guide readers through arguments in support of a creator God, offering both scientific support, and stories of their personal experiences. The book moves from discussion about truth and morality, to how life began, miracles, and the teachings of Jesus. Along the way, they encourage their readers to think about their beliefs and challenge them to articulate the reasons for those beliefs.

Included with this review was the I Don't Have Enough Faith to be an Atheist workbook. Each section of the workbook correlates to a chapter in the book, with vocabulary activities, questions to further encourage students to think about the content, brief biographies of people who helped shape Christian and non-Christian worldviews, as well as additional assignments meant to help students dig deeper into each chapter.
 To see what our crew members thought of these products, check out the reviews here:

A big thank you to Brandy of Kingdom Academy for writing this introductory article.