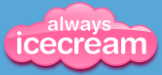 This article is in collaboration with Always Icecream.

Always Icecream
Geared to girls ages 7-12
Some of the TOS Crew recently received a free membership to the Always Icecream website to use and review. Always Icecream is a play and learn website geared to girls between the ages of 7 and 12.
A great variety of subjects are covered in the learning portions of Always Icecream including: language arts, basic math, advanced math, science, geography, history, music, art, foreign languages, computer skills and, if desired, religious education.
Take a look at a few of the screens:
Here's a screenshot for learning the United States
Here's a picture from the Learning to Type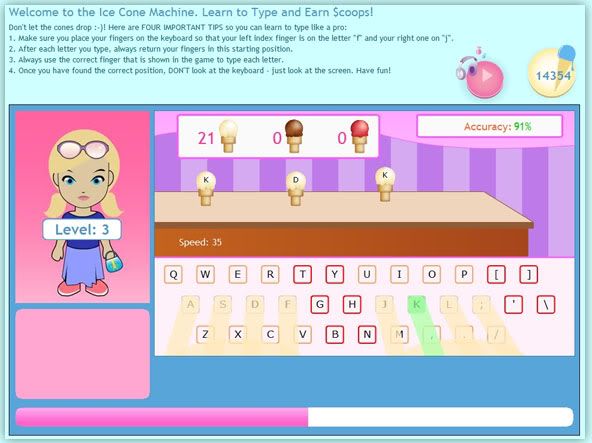 Parents Control the Fun
Parents receive weekly email reports on the learning progress of their daughters. Through their complimentary account, parents can enable or disable the "community features" that enable girls to communicate with other members. In addition, parents can customize the educational content that is presented to their girls. There is also a unique way in which parents can use our site: Girls can be rewarded "$coops," the site's in-game currency, for accomplishing "real world tasks" such as practicing piano or exercising.
Fun Rewards
Girls can earn rewards such as achievement medals, virtual pets and ice cream $coops (virtual currency) by completing learning materials and videos. The $coops can be used to play games or access other fun content.
Here's an example of a pet purchased with $coops at Pet World. A variety of care items for the pet are also purchased with $coops.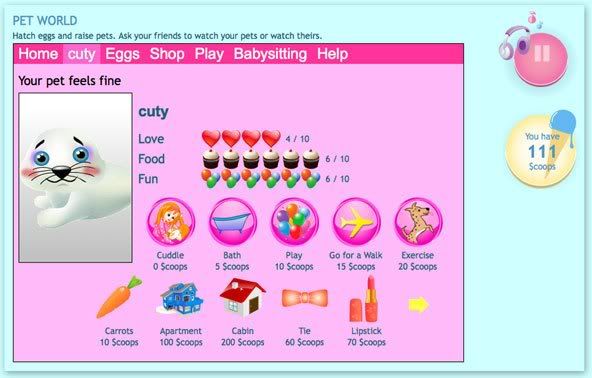 If parents enable the "social" features of Always Icecream, girls can participate in fun competitions based on their achievements. Always Icecream is the first website that combines all these aspects of online usage in an educational and safe format.
Online Safety Assured
Always Icecream provides a friendly Learning Community set of social features – if you choose to allow them – which allow your daughter to interact with other members on Always Icecream. With this option, girls play "social" games, such as babysitting each other's pets or buying artwork from other members. The communication is moderated, and strict guidelines are enforced about what communication is permissible on the site.
***Content on Always Icecream is subject to moderation, contains no advertising and is blocked to search engines. To assure your child's online privacy the site is certified by Privo.
Great for Homeschoolers – And All Other Girls
Many Always Icecream members are homeschooled, and many of the ideas for the educational content originate from the experience of the founders as homeschool parents. However, homeschooling is not a requirement to use Always Icecream.
At Always Icecream girls find fun drills in core academic subjects within in a safe and loving community experience. Parents may also choose the option of Christian educational content if they want to offer this to their daughters.
So, just to recap, here are the many great features you find at Always Icecream:
Learning Games and Rewards
Educational Videos
Shops and Games to Spend Rewards
Weekly Progress Report to Parents
Friends and Profiles
Comments and Messages
Entertaining Games and Videos as Rewards
Social Games like Pet Sitting and Arts Shop
Moderation prior to being visible to other members
Always Icecream guarantees your satisfaction. Your daughter will have fun and learn relevant skills – or you get your money back!!!
Always Icecream offers users a money-back guarantee. If you're not fully satisfied with the service, you just send them an email with a brief description about what you didn't like about your experience with the site.
Powered by Linky Tools
Click here to enter your link and view this Linky Tools list…
Special thanks to Crew Member Roberta from Pondering on the Prairie for writing this article.