Cinco de Mayo means the 5th of May in English. It is not Mexico's Independence Day. This is a time when individuals living in Mexico and the Unites States celebrate and commemorate the victory the Mexican army had over French soldiers at the 1862 Battle of Puebla in Puebla, Mexico. People celebrate the Mexican-American culture and heritage with parties, dancing, parades, music, and delicious food. I will sharing several activities that you could possibly do to celebrate and recognize Cinco de Mayo with your children.
Geography and Social Studies
Language and Culture 
Learn about Mexican traditions and culture in reference books and through online research. Spanish is the primary language spoken in Mexico. Teach your children words in Spanish including colors, numbers, months, foods, instruments, music genres, and more.
Map and Globe Work 
Find Mexico and its capital on the globe and on a map of North America. Apples 4 the Teacher and DLTK both have a map of Mexico coloring page. Children can also paint Mexico on a map. Children can complete USA or World puzzles in order to discuss the location of Mexico in relation to their state.
Where's Mexico?
Flag Research and Comparisons
Take a look at Mexico's flag. What colors do you see? What do the colors represent? Older children can research the information. The flag colors represent hope (green), purity and faith (white), and blood shed (red). What symbols are displayed? Research the Aztec legend about the flag symbols and how Mexico City was founded. Children can also compare and contrast their flag post-it notes using a hula hoop Venn diagram or they can create a painter's tape t-chart. Furthermore, a descriptive paragraph can be written.
Flag Art
Make a Tissue Paper Mexican Flag. We used the blank flag template from Activity Village. The flag template was cut and pasted to a piece of sturdy cardboard. Alyssa scrunched up cut pieces of red, green, and white tissue paper and dipped them in glue to attach to the template. She twisted black pipe cleaners over the top of the 10" dowel stick flag handle. Then, I hot glued a yellow pom pom at the top of the flag post. You could create the flag using painted lima beans, flattened pieces of tissue paper, feathers, fingerprints, construction paper, pom poms, daubers, paint, dyed rice, or dyed pasta.
Science
Plant and observe avocado plants, corn seeds, and chili pepper growth over time. Inhabitat has great photographic directions for avocado plants. This activity will take time before noticeable growth is seen.
Plan and a Fiesta (Party)
Making Invitations
A "real life" writing assignment could include making and sending invitations to friends for a fiesta. The writing assignment can be done whether you throw a party or not. However, children can plan the menu, discussing the budget and expenses, and participate in the cooking process if you decide to throw a party.
Cook Together
Tamales
Spanish Rice
Beans
Guacamole
Hubby's Delicious and Quick Enchiladas
Our Fiesta Meal
Arts and Crafts
Pinata
Obviously, you can always purchase a donkey or "burro" pinata to break if you have the extra cash, but I believe it is more fun to actually make one. For our family, it is all about the artistic process rather than the final product. We've made many papier mache crafts in the past, however this time I wanted to try something different. We made a homemade Paper Bag Pinata.
Add streamers to bottom and yarn to hang
Mexican Papel Picados
Alyssa made several red, white, and green tissue paper papel picados after seeing them in several books. DLTK has papel picado directions.
Make Tissue Paper Flowers
The national flower for Mexico is the Dahlia. There's a tissue paper Dahlia tutorial on Martha Stewart's website. First Palette has an easy tissue paper flower tutorial.
Sombrero Hats
Your children will also love creating Mexican Sombrero Hats. My daughter and I made paper plate and cup sombrero hats. Kaboose is the websit that inspired our creations.
Music, Movement, and Authentic
Clothing
Music and Dance
Listen to the Best Mariachi Music. Children can also participate in a traditional hat dance using a sombrero. Here is the El Jarabe Tapatio – The Mexican Hat Dance Music and a link to a Mexican Hat Dance performance.
Sewing or Patterned Paper Clothing
Find and show authentic clothing worn during this celebration. Make costumes or clothing if your children are learning how to sew. If not, you can always create patterned paper sombreros as seen on Chalk Talk. Other items such as ponchos, serapes, ruffled dresses, and more can be created with the supplies you have on hand. Be creative! 
Make Maracas
Make and paint your own musical instruments using the Mexican flag colors. I found a wonderful step-by-step tutorial at Playing it Cooley which describes how to make plastic egg maracas. I used pencils for the handle instead of skewers. We filled our maracas with dried pinto beans and rice. Supervise small children.
Books to Read
Informative
A Look at Mexico by Helen Frost
Celebrating Cinco de Mayo: Fiesta Time! by Sandi Hill
Celebrate Cinco de Mayo with the Mexican Hat Dance by Alma F. Ada & F. Isabel Campoy
Cinco de Mayo: Celebrating the Traditions of Mexico by Diane Hoyt-Goldsmith
Celebrate Cinco de Mayo by Carolyn Otto
Celebrate! It's Cinco de Mayo by Janice Levy
Cinco de Mayo (Rookie Read About Holidays) by Mary Dodson Wade
Tortillas and Tamales
The Tortilla Factory by Gary Paulsen
Magda's Tortillas by Becky Chavarria-Chairez
The Three Little Tamales by Eric A. Kimmel
Party Planning/Days of the Week
Manana Iguana by Ann Whitford Paul (Version of Little Read Hen)
Pinatas
The Pinata Maker/El Pinatero by George Ancona
Other Picture Books
Marco's Cinco de Mayo by Lisa Bullard
For math fun, check out Cinco de Mayo math on Tracey's blog.
Tracey lives in the quiet Texas Hill Country area with her hard-working husband Jeff and her five-year-old daughter. She taught second grade in a public school for three years. After the birth of Alyssa, she felt a strong calling to homeschool. She's a Christian mom that enjoys reading, scrapbooking, cooking, baking, eating lots of chocolate, exercising, and teaching. Her eclectic homeschool style is influenced by Charlotte Mason, Unit Studies, and Classical approaches. She enjoys teaching Math, Language Arts, and Spanish. You can find Tracey blogging at A Learning Journey and you can follow her Cinco de Mayo Pinterest boards as well.
If you are familiar with McGuffey Readers, you know that they have been a trusted name in education, teaching more than 10 million children.
The Phonics and Reading with McGuffey App from LiteracySoft brings these lessons to life in an app, teaching your child to read with 52 step-by-step lessons. Phonics and Reading With McGuffey works on your PC, Mac, and Apple devices.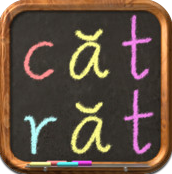 The Phonics and Reading with McGuffey App is carefully crafted to:
• Ensure no expert phonics supervisor is needed for students to gain maximum value from the lessons
• Work for any literacy level
• Act as your own personalized tutor, except in a computer
• Let students set their own pace, repeating or slowing down lessons as much as they like
• Guide your student step-by-step through reading and spelling practice
• Provide multi-sense learning including sound, vision, and motion to appeal to a wide variety of learning styles
• Utilize the power of synthetic phonics – the dyslexia-busting learning technique
• Be simple and easy to use for students at any level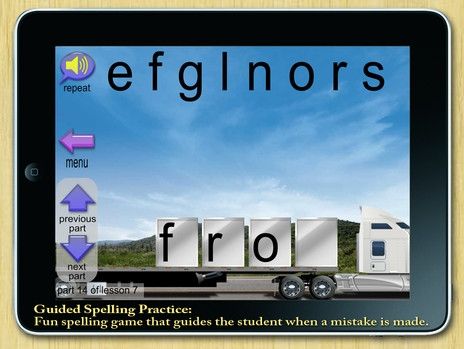 The first 10 lessons of the PC version and the lite version of the app are available as well, to try out before you buy!
A big thank you to Sam of Sam's Noggin for writing this introductory post.
Home School in the Woods specializes in writing hands-on history timelines, activity packs, lapbooks and more!  Home School in the Woods was created by the Pak family who began homeschooling in 1996.  They found that they enjoyed history a lot more if they could 'see' how it all worked together.  They began using timelines but their mom — a former graphic design artist-was disappointed in the images  in products they found to use.
Finally, in 2002, the family used their talents to start Home School in the Woods.  They began with timeline products and have grown to offer many more products to help history come alive  for you and your family. The Schoolhouse Review Crew was given an opportunity to try out three of the Homeschool in the Woods products.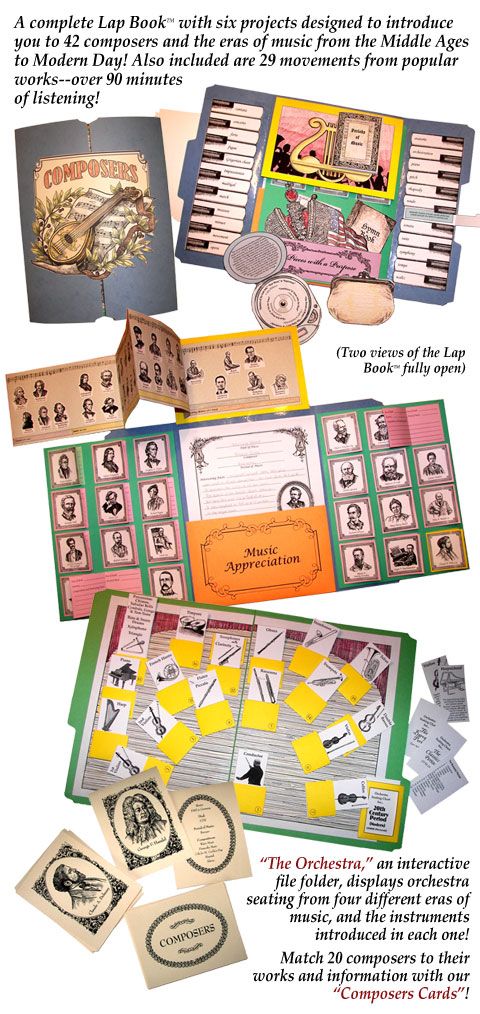 Hands-On History Activity Paks — Composers includes six detailed projects to help you get to know over 40 composers, including:
Vivaldi

Beethoven

Handel

Mozart

Gershwin
The six activities include an orchestra seating chart from the 4 different periods, music history timelines, composer matching cards, and much more.
This Composers pack is designed for students in grades 3-8. It can be purchased as a download for $18.95 or CD for $19.95.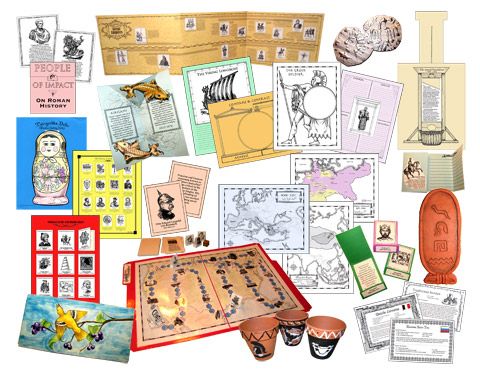 Using over 35 projects and activities, Great Empires Activity Study covers a total of 14 Ancient and Modern Empires beginning with Ancient Greece, Ancient Rome, and Ancient China and ends with the Russian Empire and the United States of America.
This interactive study includes art projects, recipes, reading, a timeline and much more!
Great Empires Activity Study is designed for all levels of Elementary students and retails for $18.95 download or $19.95 CD.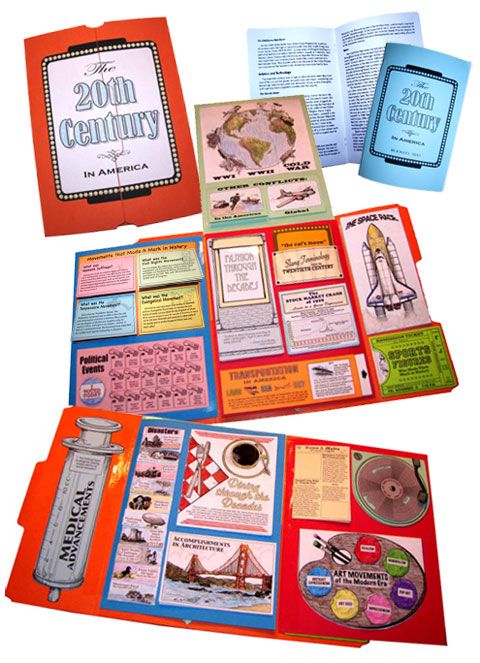 The 20th Century in America Hands-On History Lap-Pak is a hands-on History Lap-Pak is designed for students in grades 3-8.  This pack guides students through some of the most important moments in the 20th Century, while helping them to create a beautiful lapbook that contains over 20 different activities!
Some of the events highlighted in this pack are:
World Wars
Political Events
Modern Missionaries
The Stock Market crash of 1929
The Space Race and more!
The 20th Century in America Hands-On History Lap-Pak  is available as a download for $21.95 or CD for $22.95.
A big thank you to Lisa of Our Country Road for writing this introductory post.
The early learning years of preschool and kindergarten are a wondrous time of new discoveries and acquiring new skills by leaps and bounds.  Children tend to be eager to learn at this age, soaking up knowledge like a sponge.  Although autism presents its own unique challenges, these early years are still precious and full of opportunities to learn.
My middle daughter on the autism spectrum is a kindergartner this year.  I've come to see that what worked with my neurotypical older daughter at this age doesn't necessarily work with her.  I'm very relaxed about schooling in these early years anyway, so we've learned to go with the flow.  I would like to share a few tips that I've discovered that might help other moms who are homeschooling little ones with autism:
Incorporate multisensory learning as much as possible.
Many children with autism have sensory sensitivities or sensory processing issues.  I've found that using many different types of sensory input has helped my daughter tremendously in gaining new skills.  For instance, using textured manipulatives for math, touchy-feely board books for reading, textured alphabet and sight word flashcards, and alphabet/number DVDs and CDs, help engage the different senses in the learning process.  Books and workbooks alone aren't enough for my daughter to associate meaning to intangibles like reading and counting/addition.  I have to show her through the five senses that letters and numbers have meaning.  Many Montessori activities work wonderfully for autism multi-sensory learning.  A Pinterest search will yield a lot of ideas to try, too.
Having "fidgets" on hand that your child can hold and manipulate while listening to a read-aloud can often help with concentration, too.  I like to make homemade playdough that she can squish while I'm reading to her from our Bible or history lessons.  This helps her to focus and sit still for a little longer than she usually would without that tactile activity.  Coloring or placing stickers on a page are also great choices.
Repetition.
Sometimes lessons need to be repeated and reviewed more often than with neurotypical kids at this age.  I take the opportunity to sing the alphabet song several times a day with my daughter so she doesn't "lose" the information between lessons.  We also review phonics sounds throughout the day just by naming objects and saying their first letter and first letter sound three times together.  I find that having music CDs with songs about numbers and letters helps, too.  Some of our favorites are Kindergarten Learning Songs (available as mp3 download on Amazon) or many of the educational song videos on YouTube.  All of this adds fun and interest to the repetition and presents it in a multi-sensory way.
Focus on strengths rather than limitations.
If your child is good at art, try to incorporate more art into your lessons.  If he or she is musical, add music.  If they prefer to build or take things apart, prepare lessons that showcase those skills.  I consider this the "unit study" of autism.  Find an interest, a strength, and use that as positive reinforcement in your lesson planning.  Remember that you're building self-confidence and a love for learning, not just focusing on academic gains.  If your child becomes too discouraged or frustrated, they'll lose that spark that makes learning meaningful and enriching.  With just a little encouragement from you, playtime can be learning time in disguise!
Grace and patience are the bywords.
Special needs require a little extra patience at times.  We often take a few steps forward and then a few steps back.  These things are to be expected so we need to allow our children some grace to be who they are, regardless of whether or not they're meeting a standard on some arbitrary educational chart.  We must also extend grace to ourselves because special needs moms are often their own harshest critics.  Remember that each day begins with a fresh start and the Lord gives us new mercy day by day.  Take a deep breath, step away from those phonics lessons or addition problems if necessary, and just enjoy the time with your kids.  It will be okay, really.  Does it really matter in the long run whether your child is 5 or 10 when they learn to read?  Autism is truly a spectrum disorder so results will vary.  Cultivating grace and patience serves everyone well.
A sensory-rich environment that encourages learning activities is the best start in the early formative years.  Truthfully, most of these ideas can be applied to "typical"
homeschooling, even if your children don't happen to be autistic.  All children need a positive parent on their side to help them reach their full potential.
You can find Sara blogging about autism, homeschooling, faith, motherhood, books, and more at Embracing Destiny.  She is also on Facebook and Twitter.  Sara has been Dave's wife for almost 18 years and their daughters are 11, 5, and 3.
Whether teaching writing skills to a high school student or reviewing existing skills, the process of teaching writing skills can be daunting.  Sharon Watson, a veteran homeschooling mom, co-op teacher, and literary workshop facilitator, has taken the dread out of polishing up those writing skills.  Schoolhouse Review Crew members have had the opportunity to use and review two of Sharon's premium curriculum items:  The Power in Your Hands:  Writing Non-Fiction in High School and Writing Fiction in High School.  Through the Writing with Sharon Watson curriculum, students find a conversational-style instruction that turns writing from a subject of dread to a subject of delight.
The Power in Your Hands:  Writing Non-Fiction in High School  is "the natural next step for those who value college-preparatory material presented in incremental steps with a conversational tone. With over 100 daily lessons and complete instructions for 22 essays and reports, this is an engaging course students will enjoy–or not dread."  Students are given the tools they need to succeed not only in high school writing but also in college writing. They are guided through writing five different persuasive type essays, a comparison and contrast essay, a biography, a literary analysis, a research paper with documentation, descriptive essays, and narrative essays. There are over 400 pages of instruction and activities in the student workbook.  The teacher's guide gives parents the answers to all of the questions in the student workbook and samples of numerous papers to help them evaluate their student's writings.  The student workbook retails for $39.98 and the teacher's guide retails for $14.98. 
     Writing Fiction in High School is written in the same conversational-style as Watson's non-fiction curriculum.  It is designed to help teens who love to write stories and want to influence the world as Christians learn to be more powerful and effective writers.  Student's learn about and have the opportunity to practice with the various literary elements involved in story telling and experience critiquing their own stories and stories of others.  There is even a manuscript tract for students who have already written a short story or novel manuscript to be able to edit and improve on that existing work.  The student workbook, containing over 300 pages of instructional text and activities, is available for $25.05; and the, teacher's guide is available for $19.95.
To read what our illustrious crew members have to say about their experience with Writing with Sharon Watson, click on the linky below.
A big thank you to Sarah Dugger of Ahoy Maties! for writing this introductory post.
Kristi K. @ The Potter's Hand Academy —  The Best Laid Plan o' Mice an' Men
How often have you planned something, something AWESOME, and the universe just seemed to conspire against you?? That happens to me all of the time. My husband seriously doesn't make plans anymore, for that very reason. So, what do you do? Well, some things to remember . . .
Nikki F. @ Blessings from Homeschooling — Error: Change of Plans
There is an old saying from a movie that says "If you build it they will come!", we have changed it to say "If you planned it, it will happen!" But what happens when things don't go as you planned?
Amy @ Bow of Bronze — Flexibility is Key to Homeschooling Success
I don't know about you, but my day NEVER goes the way I have planned.
Brandy B. @ Kingdom Academy Homeschool – This is NOT what I had in mind.
I remind myself in these moments that I am not homeschooling just to prepare my kids for college. I am homeschooling to prepare them for life.
Heather A. @ Only Passionate Curiosity – Homeschool Scheduling Woes
It's so frustrating to feel like my "To-Do" list will never get done. When I get really overwhelmed, I turn to the other Homeschooling Mommas in my life. They offered this sage advice on how to deal with Homeschool scheduling woes and the frustrated feelings that come with them.
Sarah A. @ My Joy-Filled Life — His Plans Are Perfect!
Having babies and moving often really throws a wrench into my homeschool plans. But isn't that the beauty of homeschooling? The flexibility!
Rebekah T. @ There Will Be a $5 Charge for Whining – Becoming Bendable
I seldom have a day that anything goes as planned. My life has been so unpredictable and I learned a long time ago that I had to become a bit more bendable. It was more important to end the day with a smile than lay my head on a pillow filled with regrets.
Alyson B. @ Family Style School — You planned, now what? 
You have everything planned out, a schedule in place, all the supplies you need (you think), and you are feeling really good. Great, in fact, like this next week is going to be amazing. I mean just look at those pretty plans. You, my friend, are going to get so much done!
Kym T. @ Homeschool Coffee Break — D is for Disruptions
 Hardly a day goes by that our homeschool isn't disrupted in some little way. Thankfully, the crises and true disasters have been few and far between for us, but interruptions and distractions and snags can be very disruptive too. And a string of days – or weeks – full of those kind of "well, that didn't go as planned" schooldays can make me feel like I am doing a horrible job. Or tempt me to go into a closet and beat my head against a wall because we "aren't getting anything done."
Karen M. @ Harbor Lights — But wait, I had a plan!
Sometimes life and circumstances can really "mess" with your plans. You need to be ready for what comes your way.
Jennifer L. @ Royal Little Lambs — Mamas Have Tantrums, Too
And apparently a seven year old girl can handle disappointment better than I can.
Beth S. @ Weavings — Friday "Upset"
Remembering playing Fruit Basket Upset? Well, today I felt like all my plans fell into that basket.
Patience A. @ Savvy Homeschool — Why we homeschool year round
Life throws unexpected interruptions into your day so to adapt we homeschool year round.
Homeschooling with toddlers and preschoolers in the house can be challenging, to say the least! Coming up with creative ways to keep them occupied, engaged, and out of trouble can test the patience right out of the best of us. Dr. Craft's Active Play understands this challenge and has designed Active Play! Fun Physical Activities for Young Children with your youngsters in mind.
This spiral bound book and award-winning DVD set contains 52 age appropriate physical activities that are:
created for toddlers and preschoolers to play together
easy to lead, fun to do
inexpensive, using easy-to-get equipment
designed for children to develop fundamental movement skills and
physical fitness
inclusive of children with special needs
According to the National Association of Sport and Physical Education, preschool children need, at a minimum, 60 minutes of structured physical activity every single day. They also need 60 minutes of unstructured physical activity every day. In addition to this, they say children should not be sedentary for more than 60 minutes at a time, except when sleeping. If you have a preschooler in the house, this explains a lot – they are ALWAYS on the move!
To help you plan how to meet these recommended physical needs of your child, check out Active Play! Fun Physical Activities for Young Children from Dr. Craft's Active Play. The program costs $39 for both the book and DVD together plus shipping and handling. And be sure to check out what our Schoolhouse Review Crew had to say about it here:
A big thank you to Megan of Half-Pint House for writing this introductory post.
Pinterest Explained
If you haven't heard of Pinterest yet, I would be shocked. Lots of people are talking about Pinterest, pinning, and pin boards. You can find people talking about Pinterest in every corner of the Internet! And well they should. Recent studies by ShareAHolic indicate that Pinterest is driving more traffic to internet sites then Google. That's a whole bunch of people.
In my internet meanderings, I've also run across a whole bunch of people who just don't understand the big deal. They've never seen Pinterest, and cannot grasp the concept of what Pinterest is or how they could use it. Or they tried to look at Pinterest once and couldn't make heads or tails of it. No matter which category you belong to today, I would like to show you how I use Pinterest to find Free Homeschool materials of all kinds.
Since some of you have never visited the Pinterest website, let's start with the nitty-gritty. You need a Pinterest account. It's free and straight-forward to start a Pinterest account. Once you have a Pinterest account you need to know the following three definitions.
A Pinterest Pin
A single image tied to a specific website is called a pin. You can create a pin when you visit any website by using a special tool from Pinterest. You can also "re-pin" those pins which have been created by other users. Most users prefer to create or repin pins that connect to excellent content.
A Pinterest Board
This is a group of Pins. Users organize their pins by category. This organization helps us keep track of our pins so that we can find them later. It also helps us share those pins with others in a meaningful way.
A Pinterest Pinner
Anyone who pins or repins is called a pinner. Pinterest pinners collect pins into boards and collect boards in their account. Pinterest pinners can be followed and following other like-minded pinners will help make your Pinterest experience a posit
ive one. When I open Pinterest it defaults to showing me the pins from those I am following. (Kind of like Facebook shows you the posts of your friends.) Since I am following many homeschoolers and many bloggers, and several foodies, almost all of the content I see right off the bat is relevant to me. Pinterest pinners can also harness the power of the ultimate search engine. That is the subject of the second half of this blog post.
Once you start searching for free homeschool materials you are going to realize that the sky is the limit. Unit studies, lapbooks, printable worksheets, study guides, hands-on projects, art, crafts, games, even books – it's all on Pinterest. You just have to know how to look.
One way to "look" is one we have already talked about – following like-minded Pinterest Users. Follow the Schoolhouse Review Crew on Pinterest.  By following like-minded people (a.k.a. other homeschoolers) you are going to see relevant content every time you open Pinterest.
And then there is the search engine. You can use the search engine one of three ways. You can search for pins. You can search for boards. Or you can search for users. Let me explain.
Let's say I want to find material on Geography. I can search Homeschool Geography and the default response will be to show me all the pins about geography tagged with the word Homeschool. This works to some extent, but I am likely to see many duplicate pins. However, with the click of a button I can change the view to see all of the boards described as Homeschool Geography and suddenly I will see the boards of users who "collect" geography related material. Since boards don't contain duplicate material like a pin search will, I can comb through a larger number of relevant pins more quickly if I search by board and then open those boards and nose around. While I am looking at the different boards I can follow just those boards and in the process become familiar with other pinners. When they pin something new onto their Homeschool Geography board, I will see it in my feed. While you can also change the view to see pinners who rank high in your search, I didn't find that function to be very effective.
Let's Talk about a Pinterest Action Plan
Here are some basic steps you can take to begin using Pinterest to help you homeschool for free.
1. Create a free Pinterest account.
2. Find some like-minded Pinners to follow.
3. Use Pinterest to search for relevant homeschool material.
4. Create your own boards and pins.
Amy lives with her husband and six beautiful children in Southern California. Besides blogging, Amy enjoys homeschooling, hiking, reading, singing, teaching, and serving Jesus above all. If you enjoyed this article, read Bow of Bronze, or Follow Amy on Pinterest