The Homeschool Review Crew gave us an unprecedented opportunity to reach a large number of influential homeschool bloggers for a very affordable price. I would recommend this service to anyone trying to tap into this market.
We had a wonderful experience working with the Homeschool Review Crew. Through their coordinated blog service, they generated almost 100 reviews of our product within a very short amount of time. I highly recommend this service!
Barbour Publishing
www.BarbourBooks.com
(Our Barbour Publishing Reviews)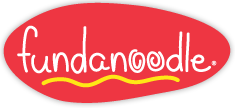 We are so appreciative to the Homeschool Review Crew for their through, honest and insightful reviews of our Fundanoodle products. We were impressed with the detail of the reviews, the creative presentations (we loved all of the "in action" photos) and candid comments. We heard some great ways to improve the packaging and presentation, and also learned several new ways to use the product thanks to innovative parents!
April Whitlock
CEO, Fundanoodle
www.Fundanoodle.com
(Our Fundanoodle Reviews)
The Homeschool Review Crew was the best use of our advertising money in 2013! The reviewers were fabulous to work with, prompt, and the buzz created about our product kept our sales strong well into the fall. Through the process we not only gained a wider audience for the Logic of English but also a better understanding of how homeschool parents are using our products. The feedback alone was worth it!
Denise Eide
President
The Logic of English
www.LogicofEnglish.com
(Our Logic of English Reviews)

Purchasing homeschool curriculum is much easier when you have a trusted recommendation, and The Homeschool Review Crew provides a very visible and trusted recommendation. The reviews are thorough and based on actual use. The reviews were also visually appealing and engaging. The response we received was outstanding. We definitely plan to continue our relationship with the Schoolhouse Review Crew.
Keith Howe
Moving Beyond the Page
www.MovingBeyondthePage.com
(Our Moving Beyond the Page Reviews)
The Homeschool Review Crew made it easy for us to get our curriculum into the hands of homeschooling bloggers eager to review it for their readers. We look forward to working with them again.
John Notgrass
Business Manager
Notgrass Company
www.Notgrass.com
(Our Notgrass Reviews)
You can view our media kit for more information about featuring your product.