This article is in collaboration with See-N-Spell.
Last year, the The Old Schoolhouse Magazine's Review Crew had the opportunity to review an amazing reading tool by See-N-Read®.  This year they have offered crew members another product in the See-N-Read® family to review.
The 40-page, See-N-Spell™ booklet.
It is designed to be easy to use and is broken down into three alphabetized categories:
Most Commonly Used Vocabulary Words
Commonly Misspelled Words
My Special Interest Words
Users simply flip to the page showing the first letter (a, b, c, etc.) of the word, then scan down the page and then copy the correct spelling into their written work.

With the help of the See-N-Spell™ booklet, writers can compose stories, essays, and articles using broader and more advanced vocabulary, even when they might have less confidence in their ability to spell these words correctly. Perhaps you know someone who chooses simpler words when they write, yet those words do not accurately express the thoughts they are trying to convey; the  See-N-Spell™ booklet was created to address that very problem.
Each See-N-Spell™ booklet also comes with a See-N-Read® reading tool.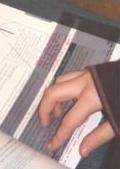 The See-N-Read® is an assistive reading device that is designed to help readers see, focus and remember what they read. It helps struggling readers reduce word- and line-skipping along with pattern glare, it improves reading fluency and comprehension.
All of the See-N-Read® Reading Tools were designed and developed by Sylvia R. Smith, Ed.D. as a practical intervention for struggling readers. They support the essential visual and cognitive skills required for readers to more effectively receive, process and remember information.  Dr. Smith's conclusions are grounded in research in the areas of learning theory, reading, visual discrimination, ophthalmology and psychology and have been endorsed by researchers and practitioners in neuropsychology, psychology and learning.
Last year the See-N-Read® reading tool was the recipient of the The Old Schoolhouse Magazine's Review Crew Blue Ribbon Award in the "Favorite Special Needs Product" Category.
Powered by Linky Tools
To view the list of reviews, or for Crew Members to enter your links, please Click here.
Thank you to Julie Coney from a teaching heart for writing this introductory article.